China Braces for a Summer Power Crunch
(Bloomberg) -- The world's largest electricity producer is warning it may run short of power this summer.
Parts of China are at risk of shortages as the nation's distribution networks struggle to cope with soaring temperatures and the fastest power consumption growth in seven years, regulators warned in recent weeks. Sustained economic growth has propped up demand, while President Xi Jinping's clean-air drive is crimping efforts to boost coal output, stretching natural gas supply and increasing reliance on renewable power, which can be unpredictable.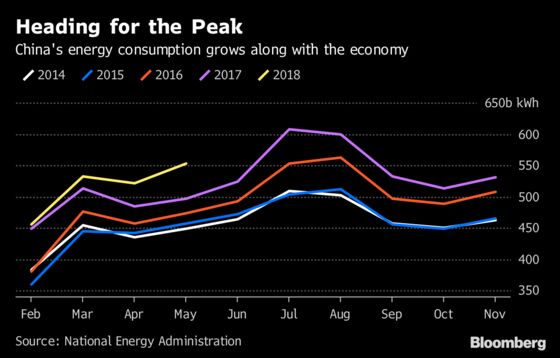 "As China entered summer season, electricity demand for air conditioning and refrigeration has increased, leading to a rapid surge in daily power generation," Yan Pengcheng, a spokesman for the National Development & Reform Commission, said on Tuesday. Power load, which has already hit close to last summer's high, is expected to "continue rising significantly, and shortages may occur in some areas during peak periods," he said.
The potential crunch echoes heating shortages parts of the country suffered last winter amid a campaign to switch coal boilers and heaters to natural gas. The environmental push has also hampered a ramp-up in coal supply, which power producers have called for to stave off a shortfall.
The tightness in coal has been exacerbated by some manufacturers boosting production before winter, when regulators tend to limit output to ease pollution, said Frank Yu, an analyst at Wood Mackenzie Ltd. Last winter, for instance, the government clamped down on industrial activity and imposed restrictions on steel mills and aluminum smelters, among others.
In the first half of the year, power demand from agriculture, manufacturing and service industries climbed 10 percent, 7.6 percent and nearly 15 percent, respectively, according to the China Electricity Council. Residential use rose 13 percent, it said last week.
The country's total power consumption increased 9.4 percent between January and June, NDRC's Yan said. That's the highest since 2011, according to data from the National Energy Administration.
Fuel prices in China have been on a roll. Thermal coal at Qinhuangdao port jumped to 696 yuan ($104) a metric ton in June, well above a government target of about 570 yuan. Liquefied natural gas prices, which can be used as a barometer for supply-demand as they aren't regulated by the government, rallied almost 17 percent since end-April to 3,889 yuan a ton (about $11.90 per million British thermal unit) as of July 10, the highest for that time of year since 2014, according to the National Bureau of Statistics.
Some northern, eastern and central regions may see tighter coal supply and insufficient electricity generation this summer, the NDRC said last month. Shortages could occur in Beijing, Tianjin and other cities in the Hebei, Shandong, Jiangsu, Zhejiang and Hubei provinces, according to analysts including at Everbright Sun Hung Kai Co.
Over the years, China has invested more in clean energy than anywhere else in the world, with the bulk of newly-added capacity in solar, wind and hydro-power. However, output varies with available sunlight, wind speeds and rainfall patterns.
"Renewable power generation is intermittent and unable to fully meet electricity demand without proper storage systems," said Wang Ke, associate professor with the School of Environment & Natural Resources at Renmin University.
To cope with the potential shortfalls, China has pushed for more high-grade coal and natural gas supply and the acceleration of gas storage construction, as well as improvements in gas import infrastructure and power transmission networks, the NDRC said.
"Shortages in the peak summer season is largely a distribution problem, not a power generation problem," said Helen Lau, a Hong Kong-based analyst at Argonaut Securities (Asia) Ltd. "Better planning and coordination with power generators and main consumers before summer could alleviate the short-term bottlenecks."