Yuan Hits One-Year Low, Testing China's Tolerance for Weakness
(Bloomberg) -- The yuan fell to the lowest since August as the dollar rallied, raising speculation that Chinese officials are comfortable with the currency's weakness.
The yuan fell as much as 0.29 percent to 6.7229 per dollar, while the overseas-traded currency also weakened. Chinese stocks reversed earlier gains, with the Shanghai Composite Index and the Hang Seng China Enterprises Index closing at least 0.1 percent down.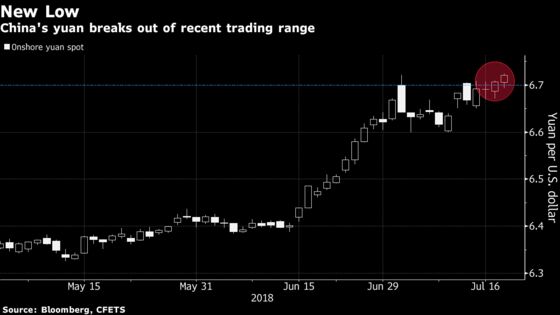 The yuan has slid 4.7 percent since mid-June to become Asia's worst performing currency as China's economy showed signs of slowing and as the trade spat with the U.S. escalated. While the currency will moderately depreciate amid ongoing trade tensions, the central bank is unlikely to set a line in the sand for the exchange rate as long as the moves are driven by fundamental factors, according to Pacific Investment Management Co.
"Market concerns resulting from uncertainty such as trade war continue to weigh on sentiment," said Gao Qi, Singapore-based foreign exchange strategist at Scotiabank. "Investors will keep pushing the yuan to 6.8 per dollar. The PBOC will step in, if one-sided depreciation pressures are seen."
When the yuan fell to similar levels earlier this month, senior officials at the People's Bank of China voiced support for the currency, saying it would be kept stable and not be used as a weapon in the trade dispute. The derivatives market has shown little sign of panic over the yuan, with the offshore currency's three-month risk-reversal staying at a relatively low level compared with the aftermath of a devaluation in 2015.
A potential compromise in the spat with the U.S. would "almost certainly entail a sizable reduction" in China's trade surplus, which would weaken fundamentals and the exchange rate, Isaac Meng, an emerging market portfolio manager at Pimco in Hong Kong, wrote in a blog. He added that a depreciating yuan will help offset U.S. tariffs, the first round of which will trim 10 to 20 basis points off Chinese GDP.
The onshore yuan was down 0.23 percent at 6.7185 per dollar as of 5:44 p.m. in Shanghai, while the offshore currency slipped 0.42 percent to 6.7506, the lowest level since July 2017.