$1.3 Million for a Tiny Flat? Another Scorching Weekend for Hong Kong Housing
(Bloomberg) -- High demand and a record local price for Sun Hung Kai Properties Ltd. units in Hong Kong at the weekend showed that the property market is yet to cool after Chief Executive Carrie Lam unveiled a vacancy tax.
The developer sold 44 of 45 flats at a North Point site on Sunday, varying from studios to two-bedroom apartments. The prices ranged from HK$10.25 million ($1.3 million) to HK$21.87 million, based on the maximum discounts offered to buyers.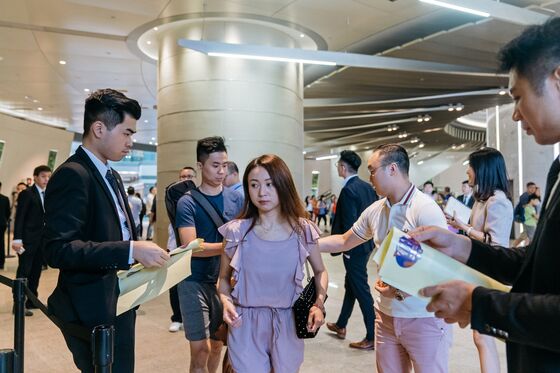 Lam's tax, announced last month, is another attempt to cool a property market that's risen more than 50 percent over the past five years, adding to the risk of a sudden bust. The North Point sales show the challenge she faces: 286-square-foot studio apartments selling at HK$10.25 million set a record for the area, according to Midland Realty Services Ltd., and the developer has boosted the prices for the next 36 apartments to go on sale by an average of 10 percent.
"The developers are cooperative with the new vacancy tax. The launches of new units are becoming quicker," said Louis Chan, Asia-Pacific vice-chairman and chief executive of the residential division of Centaline Property Agency Ltd.
The apartments are part of Sun Hung Kai's luxury project Victoria Harbour, which used to be the largest public housing estate in the Eastern District. The prices averaged out at HK$36,738 ($4,681) per square foot, after factoring in a maximum discount for buyers of 19 percent.
On Saturday, the developer offered 168 units for sale at its project St Martin in Tai Po, an increase from the 128 originally planned.
If approved by lawmakers, Lam's proposal will require apartments left unsold for more than six months to be taxed at twice the annual rental income, or about 5 percent of the unit's value.
As of March, Sun Hung Kai had the largest number of empty or unsold apartments in the city, about 2,700, according to Morgan Stanley, citing Centaline.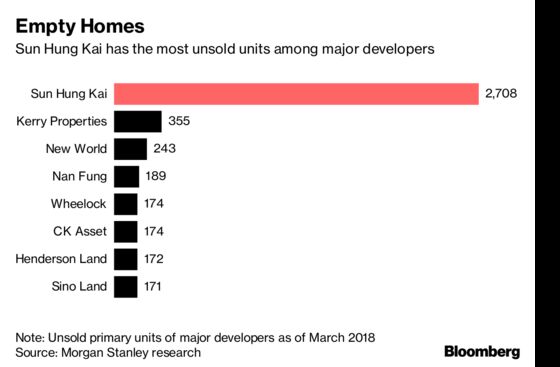 One of the prospective buyers for North Point units still sees value in the properties, despite the prices.
"The prices are indeed very expensive, but what else can I buy to maintain the value of my investment?" said Vivian Wang, as she queued up with other bidders. Centaline said 70 percent of the people who submitted applications through it were investors rather than home-seekers, compared with 50 percent through Midland.
Hong Kong may re-examine measures to further restrict sales of homes to non-residents, Radio Television Hong Kong reported, citing the city's chief executive. Lam told lawmakers last week that if property cooling measures don't work, the government will consider other ways of reining in the market.