Bulls Decide China Builder Stocks Aren't Terrible After All
(Bloomberg) -- China property bulls say that bearish investors who sent some developers' bonds to record lows and their stocks to near-crisis levels have it all wrong.
JPMorgan Chase & Co. and Nomura Holdings Inc. see a share-price rebound looming and Janus Henderson Group PLC said firms' valuations are out of line with fundamentals. That's after the average price of 22 major Chinese builders sank to a two-year low of 5.1 times next year's estimated earnings, near what JPMorgan calls a crisis level. Three similar slides in the past seven years were followed by rallies.
Major developers are set to benefit from further consolidation in the Chinese property industry, analysts at JPMorgan and CGSCIMB Research say. China's 30 largest developers accounted for about half of the nation's home sales in the first six months of the year, up from 38 percent a year earlier. Another reason not to panic: developers' funding costs are still below past highs despite a spike for offshore debt. And their revenue continues to grow, with China Evergrande Group forecast by analysts to post a 44 percent gain in 2018, after a 47 percent increase last year.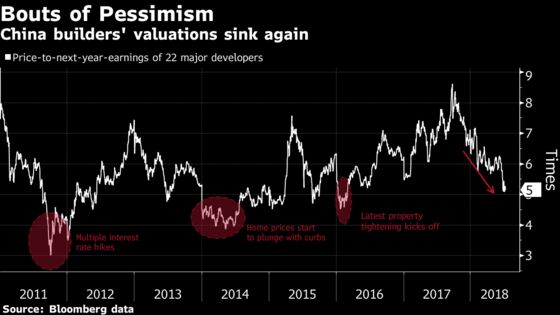 "Investors are very pessimistic today," said JPMorgan analyst Ryan Li, one of the most bullish. In six to 12 months, "they'll find they were wrong."
He focused on three occasions when low valuations were followed by share price rallies that delivered returns of 146 percent, 52 percent, and 113 percent.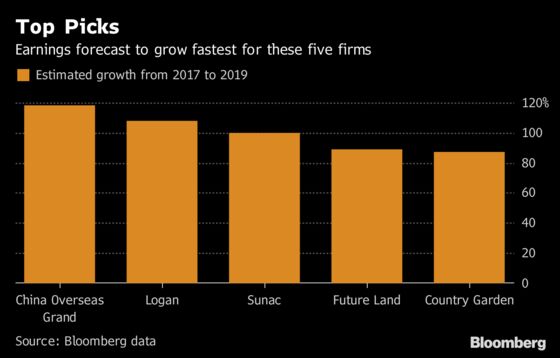 Optimism persists even after smaller developers missed debt repayments, the government escalated a crackdown on property speculation, and financing channels tightened, with a slide in the yuan boosting the cost of overseas debt repayments.
The upbeat views contrast with those of Dai Ming, of Hengsheng Asset Management, who moved "early" to cut his holdings of property stocks. While developers' valuations and near-term earnings might appear attractive, the big question is whether the government will keep tightening, he said.
Chinese dollar junk bonds, most of which are sold by builders, lost 5 percent in the first half, their worst performance since 2008, according to ICE BofAML indexes. Bonds of Country Garden Holdings Co. and Evergrande have touched record lows.
A gauge of 22 leading Chinese developers is down 17 percent since mid-June, falling on Tuesday despite official data showing faster gains in home prices.
"The backdrop of escalating trade tensions and RMB depreciation has weighed on the stocks -- disconnecting fundamentals from valuations," said Wong Yan Ling, an analyst at Janus Henderson's global property equities team, which manages $1.8 billion. "Despite turbulent equity markets, fundamentals on the ground remain stable with demand for residential units remaining strong in good locations."