Oil Falters on Specter of Supply Bubble From U.S. Surplus, Libya
(Bloomberg) -- Oil had its worst week since late May as the U.S. considered tapping national crude reserves to quell rallying gasoline prices amid a restoration of key Libyan supplies that may throw worldwide supply and demand out of whack.
Futures sank 3.8 percent this week in New York. The Trump administration may draw on the 660 million-barrel Strategic Petroleum Reserve to increase domestic supplies, according to two people familiar with the situation. Meanwhile, Libya's state oil producer restarted output from a major field that had been shut for months. The price slump was truncated on Friday when Iran disputed Russian claims about OPEC's agreement to lift production.
"It's been an avalanche of bearish headlines since Wednesday," said Bob Yawger, director of futures at Mizuho Securities USA Inc. in New York. "Libyan crude oil came out of nowhere. Nobody saw that coming back so fast."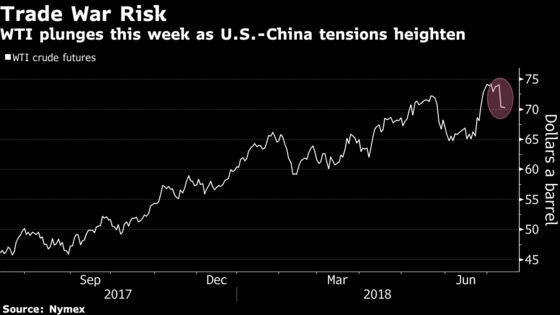 Oil has retreated since hitting a three-year high at the start of the month. U.S. President Donald Trump threatened tariffs this week on nearly half of all American imports from China, and China vowed to retaliate. As crude clawed back some of those losses on Friday, analysts pointed to doubts that Trump's aggressive levies will actually go into effect. Some also cited supportive momentum from bullish equity-market action.
"The market is realizing that this is more of a negotiating tactic on behalf of the president," said Michael Loewen, director and commodities strategist for Scotiabank. "Cooler heads will eventually prevail in these trade negotiations."
The U.S. on Friday rejected France's request for sanctions waivers that would allow French companies to continue doing business with Iran. The move may indicate the U.S. won't be as flexible as Secretary of State Mike Pompeo recently suggested.
"There's a lot of people in the market who think there's going to be a number of waivers granted to ease the supply crunch, and I just don't see that happening," said John Kilduff, founding partner for Again Capital LLC. "I think the administration is going to be playing this hardcore."
West Texas Intermediate crude for August delivery rose 68 cents to settle at $71.01 a barrel on the New York Mercantile Exchange. Total volume traded was about 20 percent below the 100-day average.
Brent for September settlement added 88 cents to $75.33 on the London-based ICE Futures Europe exchange. The global benchmark traded at a $5.38 premium to WTI for the same month.
Front-month Brent flipped to a discount to October futures this week, a structure known as contango. The pattern normally suggests that immediate supplies are excessive.
Brent posted its biggest one-day drop in more than two years on Wednesday, after U.S. President Donald Trump released a list of $200 billion worth of Chinese products that could face additional tariffs. Risky assets sold off around the world as China vowed to retaliate.
"That brought on concerns that there could be a full-blown trade war brewing between the United States and pretty much all its trading partners," said Bart Melek, head commodities strategist of Toronto Dominion Bank. "The current expected robustness of new oil demand next year could very well peter out."
Meanwhile, there are signs supply disruptions that helped oil's rally earlier this month are easing in some places.
OPEC member Libya is set to restart production at El-Feel. The country's National Oil Corp. lifted force majeure at the field, which will boost output to 72,000 barrels in a matter of days, the company said in a statement on Thursday.
Gasoline futures rose 1.7 percent to $2.1067 a gallon in New York.
China's crude imports fell in June to the lowest since December, customs data show.
OPEC exports may have returned to pre-cut levels of 2016, and any further output increase would push spare capacity to "dangerously low levels," Sanford C. Bernstein & Co. said in a note.