China Factory Inflation Accelerates as Commodity Prices Edge Up
(Bloomberg) -- China's factory inflation accelerated in June as the price of commodities held up.
The producer price index rose 4.7 percent from a year earlier, compared with a projected 4.5 percent increase in a Bloomberg survey of economists and a 4.1 percent gain in May. The consumer price index climbed 1.9 percent in June, the statistics bureau said Tuesday, matching the forecast.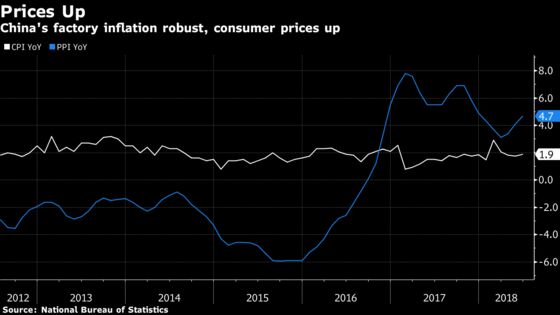 The rebound in producer prices is unlikely to be sustained, as factory momentum weakens amid uncertain global demand and slower domestic credit expansion. The producer price gauge is forecast to ease to a 3.2 percent gain this year from the 6.3 percent increase last year that helped support global reflation.
What Our Economists Say..
"Consumer price inflation just a tick higher in June and well within the government's comfort zone means the central bank has some room for maneuver," according to Fielding Chen at Bloomberg Economics. "Policies have already started tilting toward a pro-growth stance to offset trade war risks and headwinds from deleveraging."
"Prices of major industrial goods edged up and the year-ago basis was low, which boosted a further improvement in producer inflation," Wang Jian, an economist at Shenwan Hongyuan Securities Co Ltd., wrote in a recent note. "But June is probably the peak of the PPI rebound."
Base effects from last year were the major reason for the rise of both the PPI and CPI, according to a statement by the National Bureau of Statistics on its website. Carry-over effects from last year contributed 1.5 percentage points to the CPI gains in June, and as for PPI, the base factor made up for 4.1 percentage points, the agency said.