China Wealth Fund Posts Record Return After 2017 Stock Rally
(Bloomberg) -- China's $941 billion sovereign wealth fund posted a 17.6 percent return on its overseas investments last year, the best annual performance in its decade-long history, just before rising volatility and political tensions arrested a global stock market rally.
That compared with 6.2 percent in 2016 and brought the company's cumulative annual return to 5.9 percent, Beijing-based China Investment Corp. said in its 2017 annual report released Monday. Net income, which also includes profit from stakes in China's biggest banks, surged 38 percent to $103.6 billion.
CIC's stock holdings, which account for the largest portion of its overseas portfolio, benefited from a 20 percent jump in the MSCI World Index last year. That gauge is up just 0.5 percent this year as a trade spat between the U.S and China accelerated, rippling through markets worldwide. CIC is boosting allocations to direct and alternative investments for more stable returns and to cut exposure to volatile public markets, company executives have said.
While sticking to its broad asset allocations last year, CIC "made some specific, timely and smaller adjustments to our strategies, therefore achieving relatively good investment returns," President Tu Guangshao said at a briefing on Monday, adding that the performance of global markets also helped.
CIC is seeking to boost alternative and direct investments to at least 45 percent in the next three years, Tu said in March. Hedge funds have brought the company "very high" risk-adjusted returns over the years, the best in its public-market holdings, Fan Hua, head of asset allocation, said in an interview last month without providing details.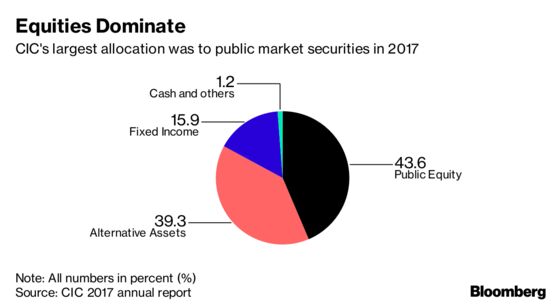 Public equities fell to 43.6 percent of CIC's overseas portfolio as of Dec. 31, from 45.9 percent a year earlier, according to the annual report. Alternative investments, which include real estate and hedge funds, rose to 39.3 percent from 37.2 percent.
Among long-term investments, CIC signed or approved 49 private equity, private debt or real estate projects in 2017 while completely or partly exiting "multiple" projects, the firm said.
CIC is watching any impact from rising trade tensions on the company's investments in the U.S. and those by a manufacturing fund being set up jointly with Goldman Sachs Group Inc., Tu said. America accounted for 52 percent of CIC's overseas public equity holdings as of Dec. 31, up slightly from a year earlier, and the joint fund is close to completing its first fundraising round with a "considerable" size smaller than $5 billion, he said.
Concerns that its investments may be a threat to the U.S. economy and industries are "completely unnecessary," because the fund doesn't seek control in companies it invests in and avoids any core technology that may involve national security, Tu said.
CIC's investments "can only bring benefits to the economic, industrial and business development as well as jobs that the US needs," he told the briefing. "Nobody can stop" the tides of economic and trade cooperation between the two countries.