U.S.-North Korea Talks Stumble as Pyongyang Knocks Pompeo Effort
(Bloomberg) -- U.S.-North Korea talks hit their first major stumbling block since last month's landmark summit between President Donald Trump and Kim Jong Un, with Pyongyang dismissing American demands after two days of negotiations as "cancerous" and "gangster-like."
North Korea's criticism of the talks in Pyongyang fueled further doubts about whether Trump will ever achieve his goal of "complete denuclearization," much less on the timeline of one to 2-1/2 years set out by various administration officials. The North Koreans were far more pessimistic in their assessment than the U.S.'s lead negotiator, Secretary of State Mike Pompeo, who called the meetings "productive."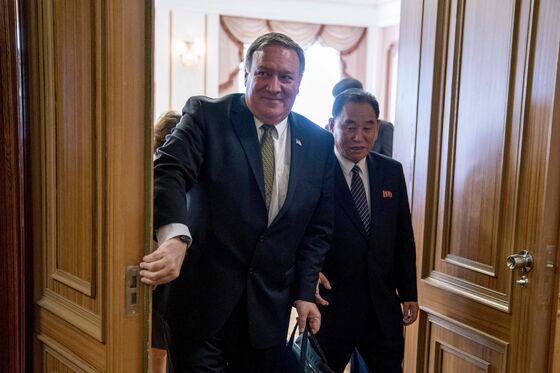 "The U.S. side came up only with its unilateral and gangster-like demand for denuclearization," an unnamed Foreign Ministry spokesman said in statement published by the state-run Korean Central News Agency a few hours after Pompeo's departure. The official said that U.S. calls for "complete, verifiable, irreversible denuclearization," run "counter to the spirit of the Singapore summit."
The statement ended with a personal appeal to the U.S. leader. "We still cherish our good faith in President Trump," the official said. Notably, Kim Jong Un didn't meet with Pompeo, as he had on the U.S. envoy's previous two trips to Pyongyang.
The dust-up exposed key disagreements that have continued to divide the U.S. and North Korea, despite the historic imagery of Trump and Kim shaking hands and signing a vague, 1-1/2 page agreement on June 12. Trump has since the summit continued to assert that North Korea was "no longer a nuclear threat," even though Kim made no commitment to unilaterally disarm and appears to be pressing ahead with nuclear and missile programs.
In Tokyo on Sunday, Pompeo said in a tweet that he would discuss maintaining the U.S.'s "maximum pressure" campaign on North Korea with his Japanese counterpart Taro Kono -- a term Trump has said he was avoiding to foster diplomacy with Kim.
"It appears Trump took his victory lap a tad too soon," Bruce Klingner, a former Central Intelligence Agency analyst and now an Asia expert at the Heritage Foundation, said in an email. "The diplomatic path remains open, but it will be far bumpier and far longer than the Trump administration had believed and described publicly."
A senior State Department official, who asked not to be identified discussing internal deliberations, said Pompeo wasn't concerned by the North Korean statement and believed it was a negotiating tactic. The official said Pompeo was encouraged by the line about still having faith in Trump.
The North Koreans stopped short of calling off talks. The two sides agreed to create working groups to discuss what the State Department called the "nitty gritty details'' and Pompeo said there would be a meeting Thursday at the South Korean border to discuss returning the remains of U.S. soldiers from the 1950-53 Korean War.
Pompeo told reporters that North Korea confirmed intentions to destroy a missile-engine testing facility and that the two sides discussed the "modalities'' of what that would look like. That fell far short of concrete steps toward cataloging and eliminating Kim nuclear weapons program, and North Korea appeared angered by his efforts to put disarmament ahead of moving to formally end the war.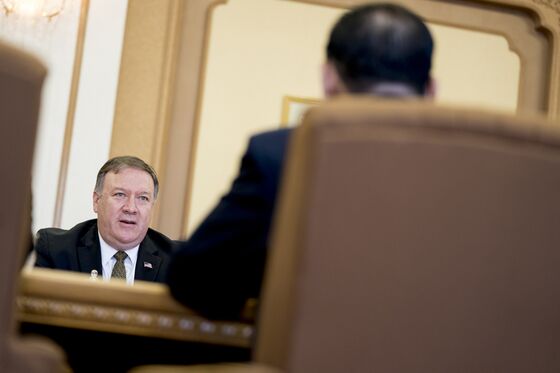 "Welcome to NK Negotiations 101," Duyeon Kim, a visiting fellow at the Korean Peninsula Future Forum in Seoul, wrote on Twitter after talks ended. "It's one of many stumbling blocks we'll encounter, but US should press ahead with negotiations but must NOT let nuke talks be held hostage to peace talks."
Over the decades, North Korea has often shown a willingness to scuttle negotiations when the disarmament pressure exceeds its tolerance. Trump called off the summit after similarly critical statements in May, only to restore the meeting following a personal appeal from Kim.
Pompeo said negotiators discussed the idea of a full declaration of North Korean weapons of mass destruction stockpiles, and setting a timeline for giving them up. He said the regime's willingness to disarm was apparent during "many hours of talks'' at a walled-off guest-house outside downtown Pyongyang with top Kim aide, Kim Yong Chol.
'Good-Faith Negotiations'
"These are complicated issues, but we made progress on almost all of the central issues,'' Pompeo told reporters before leaving for Tokyo. "We had productive, good-faith negotiations."
Kim Yong Chol ended the trip on positive note, telling Pompeo just before he boarded his plane, "We will produce an outcome, results.''
The Foreign Ministry spokesman, however, accused the U.S. side of creating "trouble" by putting forward the same kind of proposals as past administrations. Trust between the two sides had fallen to a "dangerous" level that could shake the country's "unshakable will for denuclearization."
Pompeo has been under pressure to deliver a more concrete disarmament plan to flesh out the June 12 agreement, which pledged to "work toward complete denuclearization" without a plan or timetable for dismantling North Korea's nuclear arsenal. Reports by media and independent researchers suggest the regime has continued to develop its weapons program, which it spent decades developing as a deterrent to any U.S. attack.
Fissures have also emerged in the U.S. stance. Last week, Trump's national security adviser, John Bolton, said North Korea could be expected to carry out the "bulk'' of denuclearization within a year. Yet Pompeo himself had earlier said he envisioned that occurring in about 2-1/2 years, by the end of Trump's term. State Department spokeswoman Heather Nauert later said the U.S. wasn't putting a timeline on the process.
The current dispute underscores how daunting the task will be.
"Arms control agreements are tough -- they have to be very specific, with real verification provisions," James Russell, an associate professor in national security affairs at the Naval Postgraduate School in Monterey, California, said in an email. "There has to be a symmetry of interests between the negotiating parties."