A Chinese Hotel Chain's Stock Is the Best Performer in the Global Top Ten
(Bloomberg) -- Hotel-chain operator Huazhu Group Ltd. is less well-known than the likes of Marriott International Inc. and Hilton Worldwide Holdings Inc. among global travelers, but that's not stopping the U.S.-listed Chinese company from becoming a darling of overseas investors.
China-focused Huazhu is the top performer among the world's 10 largest hotel stocks in the past year and is trading at nearly twice its global peers' valuation. Some analysts say the premium is deserved, and may even widen due to rapid travel demand from China's middle class and Huazhu's focus on expanding its mid-range hotel portfolio.
Even with one of the fastest-growing hotel markets globally, China is suffering from a shortage of mid-tier hotels, according to a Bloomberg Intelligence report this year. The segment only makes up 6.8 percent of the country's total supply.
"Huazhu still looks very cheap compared to those international hoteliers," said Tian X. Hou, analyst at TH Capital LLC, citing its growth potential. Her view is echoed by Angela Han Lee, analyst at China Renaissance, who says Huazhu is her top pick among Chinese hoteliers as its success in building its brand and expanding its network is driving long-term growth.
Formerly known as China Lodging Group Ltd. when it was founded in Shanghai in 2007 as a budget hotel chain operator, Huazhu has overtaken InterContinental Hotels Group, Hyatt Hotels Corp., Shangri-La Asia Ltd. and other major global chains to become the world's fourth-largest hotel group by market value as of Thursday's close.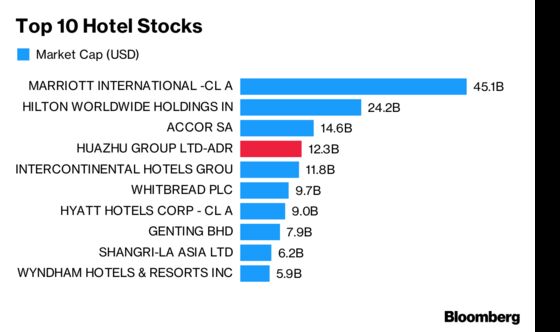 The enterprise value of Huazhu, which had nearly 385,000 hotel rooms as of the end of March, is about 23 times earnings before interest, taxes, depreciation and amortization, compared with about nearly 14 times for the peer group, data compiled by Bloomberg show.
Reflecting its strong earnings growth momentum, Huazhu's blended price-to-growth ratio stays at 1.1 times, below the 1.6 times for peers. Its blended 12- and 24-month earnings per share growth is forecast to reach about 34 percent, versus 20 percent and 17 percent, respectively, for peers.
A major risk to Huazhu and other China-focused hoteliers is a full-blown trade war between the U.S. and China, analysts say. The tensions could put pressure on room occupancy and rates for eight to nine months, especially affecting corporate travel, John Kidd, chief executive officer of Minnesota-based Radisson Hospitality Inc., said in an interview with Bloomberg last month.
Analysts remain optimistic, at least for now. Despite a 117 percent surge in its share price over the past year -- versus about 28 percent for its peers -- 12 out of 14 analysts tracked by Bloomberg have a buy rating on Huazhu. Their average 12-month target price of $47.08 is 12 percent above its closing price on Friday, according to data compiled by Bloomberg.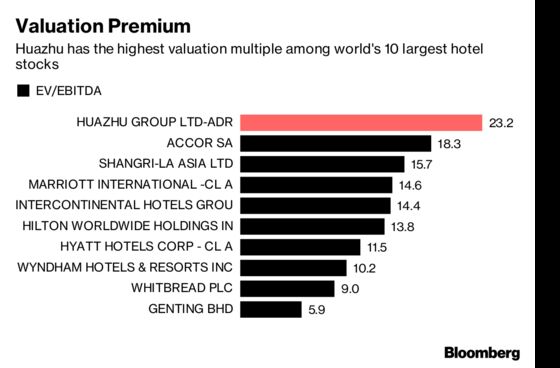 Huazhu's share price started to surge in 2016, when China's hotel industry began to shake off years of sales declines to generate sustainable revenue gains, according to a Bloomberg Intelligence report in April.
The company generated average annual sales growth of 20 percent in the last 5 years versus the global industry average of 3.6 percent, Bloomberg data showed. The firm in May revised up its net revenue growth range for this year to 18-22 percent from 16-19 percent as its revenue per room for the first three months registered a ninth consecutive quarter of growth.
"It is understandable that high-growth China companies are trading at premium to its peers focusing on developed nations," said China Renaissance's Han Lee. China lodging companies like Huazhu "are expanding fast with consistent margin improvement."