Here's How Asia Rate-Hike Bets Are Shifting on the Trade Fight
(Bloomberg) -- As Asian central banks join the race to defend their currencies in the face of escalating trade conflicts and rising U.S. rates, traders are starting to adjust their bets on central bank policy actions.
Swaps traders are paring back expectations for interest-rate increases in China, South Korea, Malaysia and Taiwan as tepid inflation gives policy makers leeway to ease or delay rate hikes, enabling the export-reliant nations to shore up their economies as global trade friction intensifies. By contrast, Indonesia, India and the Philippines have higher odds to raise rates further to keep pace with the Federal Reserve's policy tightening.
"With the market still jittery, lines are drawn across the twin-deficit economies -- India, Indonesia and the Philippines -- and the rest of the pack," said Eugene Leow, a fixed-income strategist in Singapore at DBS Group Holdings Ltd. "China, Korea, Malaysia and Taiwan are not facing imminent inflationary risks or external funding issues."
In the latest trade conflict development, China said its retaliatory duties have taken effect at 12:01 a.m. Friday in Washington after U.S. President Donald Trump fired the biggest shot yet in the global trade war by imposing tariffs on $34 billion of Chinese imports. Meanwhile, Federal Reserve officials said a "very strong" U.S. economy warranted continued increases in their policy rate while citing an escalating trade war as a risk to growth.
Here's a look at how traders have changed their interest-rate views from three months ago. The charts are mainly based on the implied policy curve, which uses swap rates to measure the real-time market expectations of the path of central bank rates.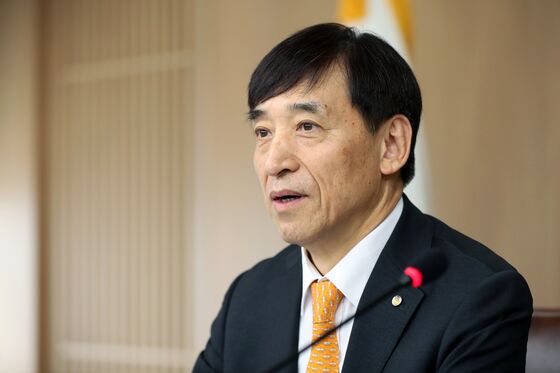 The Bank of Korea has kept its policy rate steady at 1.5 percent since raising it for the first time in six years in November. Policy makers are placing more weight on economic growth and inflation trends than risks coming from household debt and capital outflows, BOK Governor Lee Ju-yeol said last month.
Inflation stood at 1.5 percent in June from a year earlier. The economy is heavily reliant on trade, with exports accounting for 43 percent of gross domestic product. A quarter of those shipments go to China as components in manufacturing, and at least 10 percent are shipped to the U.S.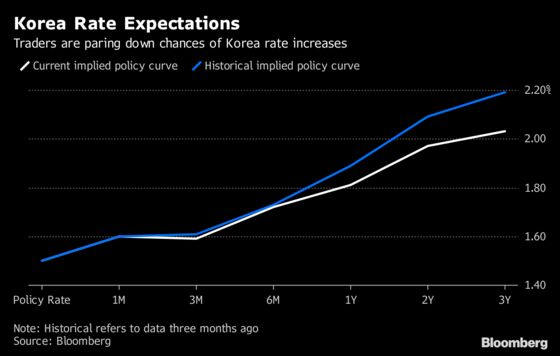 With domestic demand weakening and the perils of a trade war looming, the central bank is now facing a decision of broader policy easing and credit expansion to support growth or allowing the economy to slow further while authorities rein in debt, Alex Wolf, senior emerging-market economist at Aberdeen Standard Investments, wrote in a note this week.
As authorities choose growth over deleveraging, there could be additional cuts to banks' required reserve ratios and further injections of liquidity, he said.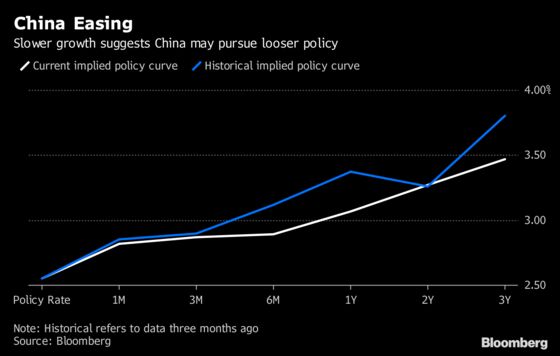 The island's central bank kept the discount rate to banks at 1.375 percent for the eighth quarterly meeting on June 21. The monetary authority said in a statement it sees the economy slowing in the second half due to global uncertainty.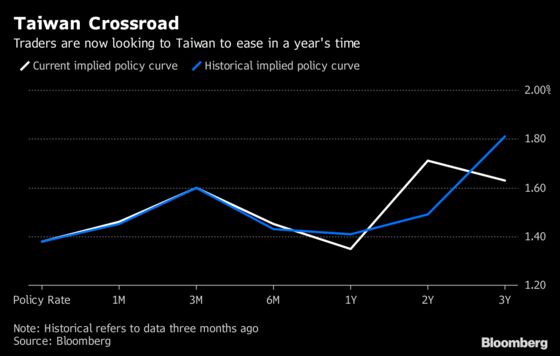 While growth remains robust in Malaysia, an inflation slowdown has given Bank Negara Malaysia scope to stay on hold after moving early with a rate hike in January. The scrapping of a 6 percent consumption tax in June -- a key campaign pledge by the new government of Prime Minister Mahathir Mohamad -- could further slow consumer-price gains.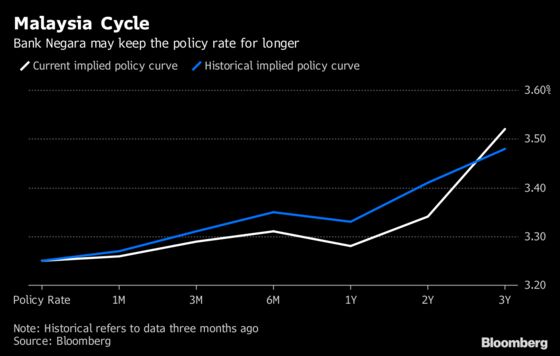 The spread between the yield on two-year sovereign bonds, typically the most sensitive to the policy rate outlook, and the benchmark interest rate reached its highest level since December 2016 on June 28, a day before Bank Indonesia delivered a surprise 50-basis-point rate increase. The central bank has already raised rates by a total of 100 basis points in the past two months to stem declines in the rupiah.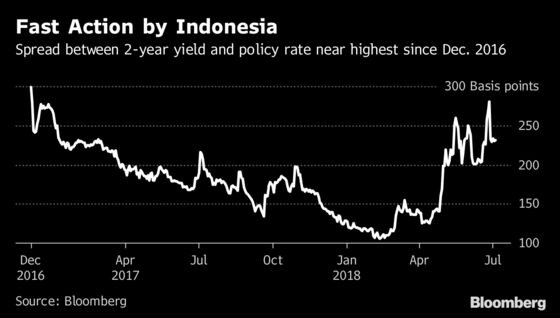 Elevated oil prices and the rupee's more than 7 percent slump against the dollar this year keep expectations high of more policy action by the Reserve Bank of India after it raised the repurchase rate in June for the first time in more than four years.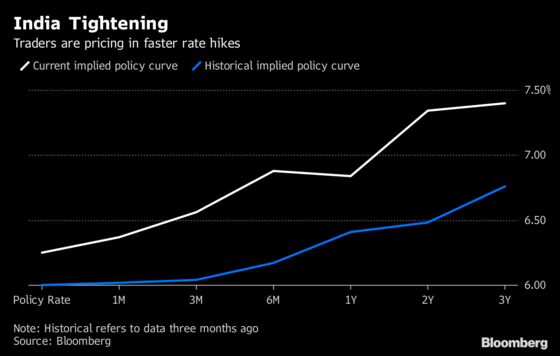 Inflation surging to 5.2 percent in June from a year earlier -- well above the central bank's annual target of 2 percent to 4 percent -- is putting pressure on Bangko Sentral ng Pilipinas to pick up the pace of interest-rate increases as the peso sinks to a 12-year low against the dollar.
Governor Nestor Espenilla said on Thursday the higher-than-expected June inflation data was a "setback" and it will shape the "strength and timing of our next monetary policy response" as the central bank tries to firmly anchor inflation expectations.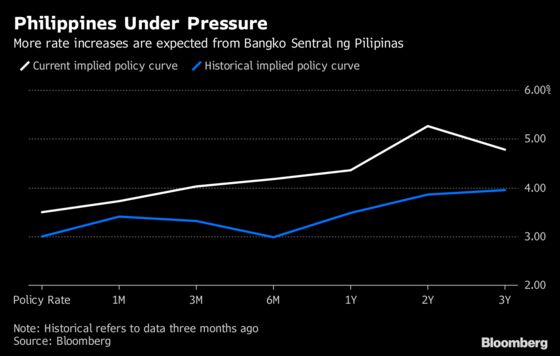 The Bank of Thailand has kept its benchmark rate near a record low of 1.5 percent for more than three years amid subdued inflation. While there's still little price pressure in the economy, expectations of a rate hike have started to build after the Bank of Thailand raised forecasts for economic growth and inflation for 2018.
Minutes of the latest interest-rate meeting in June showed policy makers discussed conditions and appropriate timing for policy normalization. The baht is down about 6 percent against the dollar in the past three months, the worst performer in Asia.