Slide in China Shares in Hong Kong Is Far From Over, BofAML Says
(Bloomberg) -- Chinese stocks could still fall a lot further from here.
So says David Cui, Bank of America Merrill Lynch's head of China equity strategy, who has been warning of risks in the world's second-largest economy for a long time. While some asset managers await opportunities to buy on dips, the Singapore-based strategist predicts another 20 percent drop in the Hang Seng China Enterprises Index, a benchmark for large Chinese shares listed in Hong Kong.
"Relative to previous three rounds of major corrections over the past decade, the current round so far has been moderate," Cui wrote in a research note dated July 5.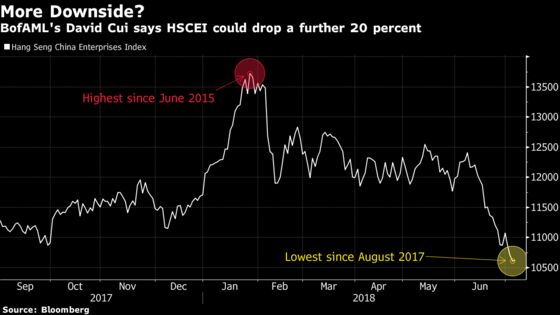 The Hang Seng China Enterprises Index still traded at 7.4 times its 12-month forward price-to-earnings ratio as of Thursday, compared to the low of 5.9 times during China's $5 trillion stock selloff in 2015, Cui writes.
Cui said the rout could deepen as his prediction hasn't even factored in negative earnings revisions. Given the "seismic" risk of a trade war with the U.S., if China's domestic growth slows further amid sharply tightened credit and housing policies, the magnitude of the index's drop may surprise investors on the downside, according to Cui.
Equity markets in Hong Kong and mainland China rebounded from early losses Friday after U.S. tariffs on $34 billion of China's exports came into effect. The Shanghai Composite Index closed with a 0.5 percent gain. The Hang Seng China Enterprises Index was little changed after falling as much as 1.3 percent. The measure has fallen 14 percent over the past month.