Chinese Stocks Struggle to Hold On to Rally as Tariffs Begin
(Bloomberg) -- Even by recent standards, Friday was fairly wild for Chinese stocks. With all eyes watching how local investors would react to U.S. tariffs, the benchmark gauge dived to a two-year low before turning 1.3 percent higher. By the end of trading, much of the rally had evaporated.
The Shanghai Composite Index closed up 0.5 percent to pare a seventh week of declines, its longest losing streak in six years. So far in July, trading in the gauge has been wilder than in any other month since February 2016, according to average intraday swings.
The U.S. imposed tariffs on $34 billion of Chinese imports just after midday Beijing time, with China immediately saying it would be forced to retaliate. The Asian nation's financial markets have been hammered in recent weeks amid concern a drawn-out trade tussle will derail an economy already burdened by tighter liquidity, while a slumping yuan damped the attraction of Chinese assets.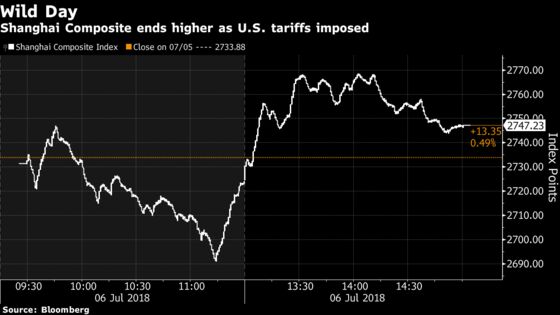 Investors may have stepped in to buy once the index fell below 2,700, said Wang Mingli, chief analyst at Guoyuan Securities in Shanghai. "The index is exhibiting clear patterns of a bottom, but a real bottom never bottoms out in just one day or one week."
The Shanghai gauge trades at 1.5 times net assets, near the cheapest since 2014, after shares sank more than 20 percent from a January high. Some investors saw the rout as an opportunity to pick up cheap shares, with Australia's UniSuper Management Pty and Chinese hedge fund Shanghai Chongyang Investment Management Co. saying they were adding to positions.
Levies on another $16 billion of goods could follow in two weeks, President Donald Trump earlier told reporters, before suggesting the final total could eventually reach $550 billion, a figure that exceeds all of U.S. goods imports from China in 2017.
Companies most shielded to an economic downturn such as consumer staples and health-care firms led gains, while some large-cap shares also climbed. Industrial & Commercial Bank of China Ltd. advanced 1.2 percent in Shanghai, paring its annual loss to 15 percent. The Hang Seng Index added 0.5 percent in Hong Kong.
Gains may be short-lived, however, if the trade battle is drawn out.
"Sentiment had worsened to extreme levels," triggering bargain hunting, said Sun Jianbo, president of China Vision Capital Management in Beijing. "The technical rebound is unlikely to be sustained, and the bear market is far from nearing an end given trade war concerns."