In Wake of Death at HNA, Chairman Chen Seen as Having to Step Up
(Bloomberg) -- For HNA Group Co. leader Chen Feng, the sudden death of his No. 2 raises the pressure for the Chinese tycoon to step up his involvement in fixing the finances of a group saddled with more than $90 billion in debt.
The late Wang Jian, the junior of HNA's two chairmen, died while sightseeing in a French village this week at a time the group was undertaking an urgent restructuring that's already involved more than $16 billion in asset sales this year. That leaves remaining managers, particularly Chen, to split the challenge of navigating one of China's most indebted companies toward the path of normalcy.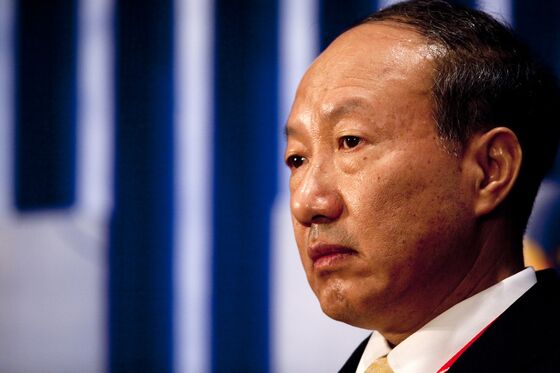 "Chen Feng has been retiring himself from day-to-day management over the years and a lot of the responsibilities have been concentrated around Wang Jian," said Yu Zhanfu, Beijing-based partner at Roland Berger Strategy Consultants. "Chen Feng is now crucial in helping stabilize sentiment in the company. He will also be the most important person to relay key messages to the outside world about HNA going forward and he needs to be more proactive."
There is no shortage of challenges Chen, 65, and his managers including Chief Executive Officer Adam Tan, 51, face as they seek to overcome the group's liquidity challenges. Below is a list of some of the biggest tasks looming. HNA declined to comment on this story.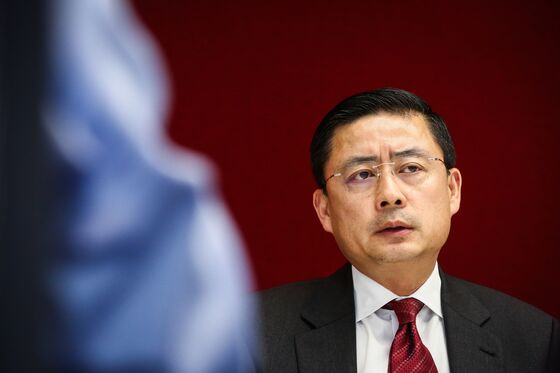 After spending tens of billions of dollars snapping up trophy assets worldwide -- including large stakes in Deutsche Bank AG and Hilton Worldwide Holdings Inc. -- HNA is now in downsizing mode. Despite its success in selling out of Hilton and disposing of various real estate properties globally, the job isn't done, according to Warut Promboon, managing partner at Bondcritic Ltd.
"HNA should come out to affirm to investors that the restructuring and asset sale efforts are on course," said Promboon. HNA needs to reduce its debt further by billions of dollars, Promboon said.
Still, concerns over HNA have been easing in recent weeks after the asset sales and as the Chinese government is said to have agreed to help the company, which couldn't generate enough profit in 2017 to pay interest expenses.
HNA last month sold its first bond in China after a rare five-month drought, signaling a crucial source of funding for the debt-laden conglomerate may be opening up. Still, the issuing company, Bohai Capital Holding Co., paid a record coupon of 7 percent, according to data compiled by Bloomberg. Borrowing costs for HNA have been high -- they surged to a record 32.1 billion yuan in 2017, exceeding its earnings and topping all non-financial companies in Asia.
"HNA's got to put up with higher financing costs just to get funding access, up until they reach a stage where they have sufficiently de-levered,"said Jin Rui Oh, a senior analyst at United First Partners. "Just do what the government wants -- De-leverage and divest."
Managing Government Relations
There are signs that HNA is turning a corner. In June, China's top leaders agreed to help HNA raise funds, people familiar with the matter have said. A senior official at the People's Bank of China even held a meeting that included the Hainan provincial government, HNA's Chen and the group's biggest creditor, to instruct attendees to support HNA's bond issues, according to the people. Soon after, HNA's Bohai Capital sold its bond.
HNA's top creditors are also state-held.
"The message from the government is very clear: HNA is to reduce debt and to concentrate on its core business of running an airline," said Victor Shih, professor of political economy at the University of California at San Diego. "I expect Chen Feng to focus on that."
Redistributing Wang's Duties
As one of the group's top executives, Wang and CEO Tan often served as the faces of HNA to global investors and partners. Though Chen is no hermit, Wang's death likely means he will need to travel more to conduct negotiations or maintain relationships, according to Ja Ian Chong, an associate professor of political science at the National University of Singapore.
"The immediate step would be for the rest of top management to redistribute his duties to ensure smooth operations," said Chong.
While two charities set up by HNA own a majority of the group's shares, the bulk of the remaining shares have been held by group executives. Wang owned a 15 percent stake, like Chen, according to HNA's last update of its ownership structure in 2017. HNA said at the time that its executives pledged to donate all their shares to the charities should they resign or die. HNA representatives weren't immediately able to confirm whether Wang's stake would go to the charities as disclosed last year.