A $240 Billion Lending Binge Threatens to Burn China Brokers
(Bloomberg) -- Chinese brokerages are sitting on more than $240 billion of loans that grow riskier by the day as the country's equity market tumbles.
Extended to company founders and other major investors who pledged their shareholdings as collateral, the loans amount to 103 percent of Chinese brokerages' net capital, up from 16 percent in 2013, according to Morgan Stanley. Losses on the debt could wipe out 11 percent of the industry's net capital, analysts at the U.S. bank wrote in a report this month.
While the loans looked like safe bets as Chinese stocks marched higher over the past two years, a $2 trillion selloff since late January is rapidly eroding the value of brokerages' collateral. Writedowns appear increasingly likely as a regulatory clampdown on financial risk squeezes borrowers and government restrictions prevent brokerages from moving quickly to protect themselves by liquidating pledged shares.
"Chinese brokers have few hedging tools to mitigate losses if such lending turns sour," said Sean Hung, a senior analyst at Moody's Investors Service in Hong Kong. "With underlying shares tanking in value, it turns into unsecured loans and what brokers hold on hand could have no market value or liquidity."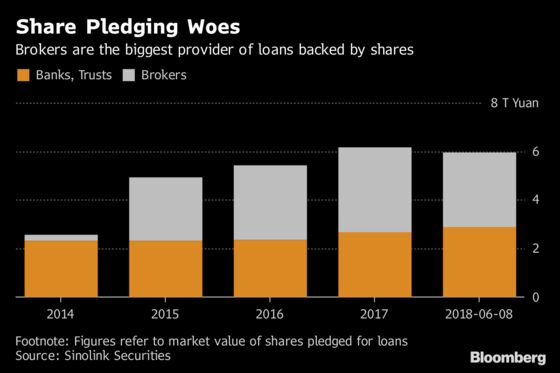 The looming losses add to a list of woes for China's securities industry that includes shrinking equity volumes, fewer initial public offerings and a government crackdown on lucrative shadow banking products. The darkening outlook has pummeled brokerage shares, dragging down a Bloomberg Intelligence index for the industry's China-listed stocks by 27 percent this year, versus a 17 percent slump for the Shanghai Composite Index. The brokerage gauge slumped 1.7 percent on Thursday to the lowest level since 2014.
Among listed brokerages, Haitong Securities Co., Citic Securities Co. and Guotai Junan Securities Co. were the biggest providers of equity-backed loans as of March, according to China International Capital Corp. Smaller firms including Industrial Securities Co., Soochow Securities Co. and Guosen Securities Co. are the most vulnerable because their balance of such financing has exceeded 74 percent of net assets, CICC said in a June 24 report.
The brokerages, which didn't reply to requests for comment, will begin reporting their first-half results next month.
China's 131 brokerages had combined profit of 113 billion yuan ($17 billion) in 2017, down 9 percent from a year earlier, according to the Securities Association of China.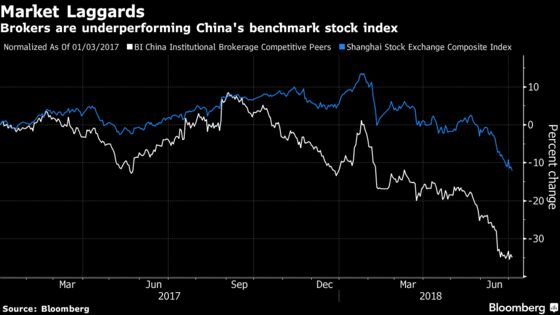 While brokerages are likely to take an earnings hit from bad-debt provisions, massive industrywide losses are unlikely given that most loans amounted to between 40 percent and 60 percent of the original value of pledged shares, according to Liao Chenkai, an analyst at Capital Securities Corp. That means stock prices have to fall a long way before collateral shortfalls become a problem.
"The overall risks are manageable," Liao said in a phone interview.
Still, one recent case of share pledges gone wrong highlights the potential downside. Western Securities Co., based in China's Shaanxi province, wrote off 439 million yuan of loans to Leshi Internet Information & Technology Corp. founder Jia Yueting after the embattled tech mogul faced a cash crunch and his company's shares sank more than 90 percent from their peak. The loss amounted to more than 30 percent of Western Securities' net income in its most recent fiscal year.
The episode underscored the hurdles brokerages face when trying to protect themselves from defaults, according to Hung, the Moody's analyst. Leshi shares were halted from April 2017 through January -- a common occurrence for Chinese companies under stress -- and Jia's stake was frozen by a Beijing court.
Brokerages face additional constraints, including regulations that prevent major shareholders from unloading stakes in companies bigger than 1 percent over a period of 90 days (the rules also apply to pledged shares). Last month, Chinese authorities instructed the industry to seek government approval before selling large chunks of pledged stock. While the directive was intended to avoid a downward spiral of forced liquidations, it further restricts brokerages' ability to manage their exposure.
"Stock pledged financing defaults are unlikely to trigger a market crash," Morgan Stanley analysts led by Lu Lu wrote in a July 1 report. But at the same time, the loans have added another layer of risk to an already difficult year for the industry, the analysts wrote.