China's Steady Hand Keeps FX Traders From Hitting Panic Button
(Bloomberg) -- The yuan's dramatic descent has currency traders on edge -- but they're not yet panicking.
That's the takeaway from the pair's risk reversals, a put-call barometer of positioning and sentiment, according to Jefferies global head of FX Brad Bechtel. While dollar-yuan is trading weaker than after China's shock devaluation of the currency in 2015, risk reversals across all maturities remain well below levels reached in the aftermath.
That signals that while traders are adding protection for further dollar gains, it's clear to markets that Chinese officials are letting the yuan weaken more gradually than in past episodes, Bechtel said.
"The fear factor is muted because the Chinese are letting it happen gradually as opposed to in one blast," Bechtel said. "It's not creating as much panic as it might otherwise. It's definitely not adding stability, but it helps the market prepare."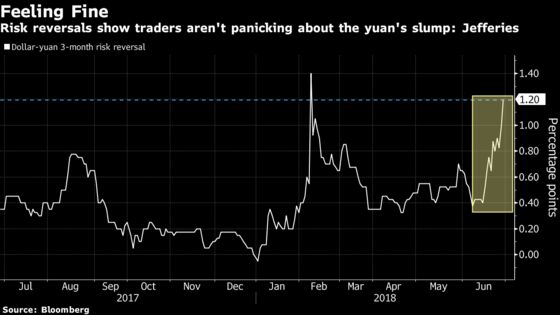 The offshore yuan has crumbled 3.5 percent in June to 6.63 per dollar amid a downshift in Chinese economic momentum and escalating trade tension with the U.S. Should the pair breach 6.7, analysts expect policy makers to act to stem losses, according to a Bloomberg survey.
Until Chinese officials step in to defend the yuan, markets can expect further greenback strength, according to Bechtel.
"Clearly they're letting the yuan go a little bit, and it's just really a question of how far," Bechtel said. "It's a positive for the dollar."