China's Yuan Pares Loss at Key Level as Local Bank Seen Buying
(Bloomberg) -- China's currency seems to have found a floor at 6.6 per dollar after its rapid descent sparked fears that the government was engaged in a competitive depreciation.
The yuan trimmed declines of as much as 0.6 percent to trade 0.2 percent lower at 6.5924 at 1:55 p.m. in Shanghai. At least one major Chinese bank sold the dollar in the onshore market to keep the yuan stronger than 6.6, according to two traders.
The currency has tumbled 3 percent in the past two weeks, the biggest loss among major currencies after South Korea's won, as weak economic data, a slumping stock market and escalating trade tensions damped the outlook. Tommy Ong, managing director for treasury and markets at DBS Hong Kong Ltd., said he wouldn't be surprised if the People's Bank of China intervened if speculative bets against the yuan grew.
"The PBOC may think that fundamentally the yuan should weaken, but the move is too fast in the past week and that could ignite capital outflows," Ong said. "Any intervention should aim only to smooth out such market moves."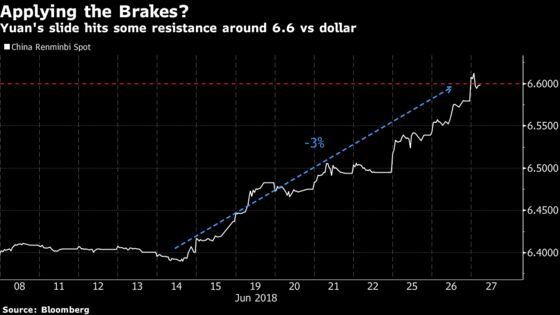 A foreign-exchange trader in Asia said the offshore yuan ran into a large dollar-seller -- possibly an agent bank working for Chinese authorities -- after weakening beyond 6.61 per dollar. The trader asked not to be named because the person isn't authorized to speak publicly.
The PBOC set the yuan's daily reference rate stronger than expected on Wednesday, but that did little to arrest the currency's early slide.
The offshore yuan dropped 0.2 percent in a 10th day of declines, matching its longest losing streak on record.
The weaker yuan is weighing on equities in China, where the Shanghai Composite Index entered a bear market Tuesday. The benchmark gauge was down 1.1 percent on Wednesday, in line for its lowest close since May 2016. The Hang Seng China Enterprises Index was also poised to enter a bear market today after falling more than 20 percent from its January peak.