China Industrial Profits Hold Up as Factory Inflation Rebounds
(Bloomberg) -- Profit growth at Chinese industrial companies held up, as factory inflation rebounded.
Industrial profits advanced 21.1 percent in May from a year earlier, versus a 21.9 percent increase in April. Total profits for the month were 607.1 billion yuan ($92.2 billion), the National Bureau of Statistics said Wednesday.
The gain was bolstered by a resurgence in producer prices, which accelerated more than expected last month as commodities such as crude oil and metals increased. That surge may not last long, as industrial output, investment and consumption all decelerated last month, signaling rising uncertainty amid trade tensions and the nation's ongoing debt cleanup.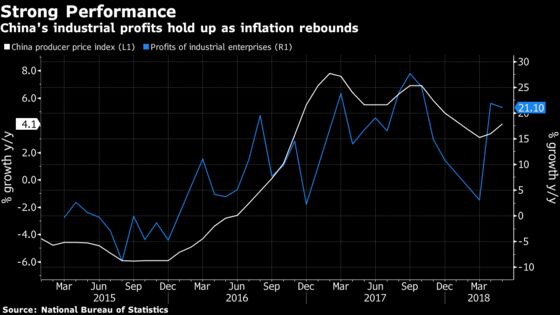 "The strong factory inflation is underpinning industrial profits this year and helping them to reduce debt," said Yao Shaohua, an economist at ABCI Securities Co. Ltd in Hong Kong. Still, the statistics authority's sample doesn't include smaller factories which are suffering from high financing costs, Yao said.
The government has stepped up its support for small companies amid a sharp deceleration of credit growth, with a cut in reserve requirements partly aimed at supporting them. With escalating trade tensions and wavering confidence in the nation's economy, China's stocks entered a bear market while its currency weakened past 6.6 per dollar for the first time since December.
Reduced costs and lower leverage as a result of supply-side reforms, shorter inventory cycles and accelerating factory inflation all contributed to the strong performance, the NBS said in a statement released with the data.