Blue Skies in China Will Be a Global Gas Producer's Best Friend
(Bloomberg) -- Chinese President Xi Jinping's push to clear his nation's notorious smog will drive global natural gas demand into next decade, according to the International Energy Agency.
The world's largest energy user will boost consumption of the fuel by 8 percent a year from 2017 to 2023, a total increase of 139 billion cubic meters and accounting for more than one-third of global demand growth, the IEA said in its annual gas market report Tuesday. Almost 60 percent of that incremental demand will come from the industrial and residential sectors, which have been pushed by the government to use more natural gas in place of coal.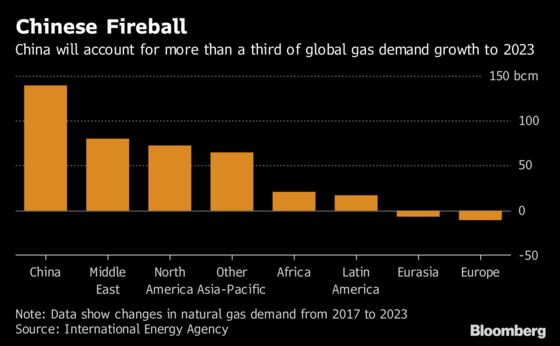 "Every sector contributed to the gas surge, but the main factor was the switch from small coal-fired to natural gas-fired boilers for industrial and residential use," the agency said in its report.
To read about the geopolitical implications of China's gas shift, click here.
The China-driven global demand boom may lead to a stretched liquefied natural gas market next decade if no new investments are made in production, the IEA warned. Sellers need to make decisions to pursue projects in the next few years to ensure adequate supply by 2023, it said.
China's gas use rose 15 percent last year as the government passed a series of measures to help meet a deadline set in 2013 for ambitious air quality targets. While the increased gas had some impact on airborne pollution in Beijing, it also created shortages in parts of the country that lacked adequate storage or supply access.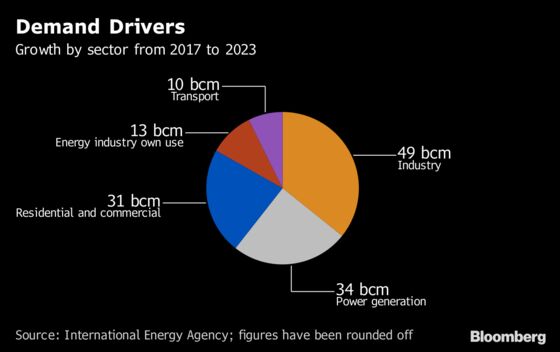 The IEA expects strong air-quality policies to continue driving China's demand, though at a slower rate than last year, toward the country becoming the largest importer of natural gas by 2019. (It might have already reached that milestone, with recent data showing the nation overtook Japan as the biggest buyer during the first five months of 2018.)
China will need to expand gas storage capacity to meet increased seasonal needs during winters, the IEA said. China has about 10 billion cubic meters of storage space, or about 4 percent of its annual demand. Germany and Italy, two other countries with high-import dependency, have capacity amounting to 25 percent and 33 percent of demand, respectively.
Meanwhile, as demand marches higher, so will China's dependence on imports. Though the country will become the world's fourth-largest producer by 2023 -- based on annual production growth of 5.5 percent -- the share of domestic output in the total supply will fall to 54 percent from 61 percent, according to the IEA.