Asia Junk Bond Rout Divides Veterans on $121 Billion Market
(Bloomberg) -- Asian junk bonds have sold off amid defaults and concerns over refinancing risks, dividing veterans on where the $121 billion market is headed.
Spreads on the region's high-yield dollar notes have widened to the highest in nearly two years, according to a Bloomberg Barclays index. The threat of a trade war and rising interest rates have added to concerns after recent defaults by China Energy Reserve & Chemicals Group Co. and Hsin Chong Group Holdings Ltd. For investors like Lombard Odier (Singapore), the selloff has increased the securities' appeal.
"The yields on offer for Asia high-yield make them really attractive," said Dhiraj Bajaj, portfolio manager at the firm. "When someone can get 7 to 8 percent in decent quality, it provides a strong proposition versus equities."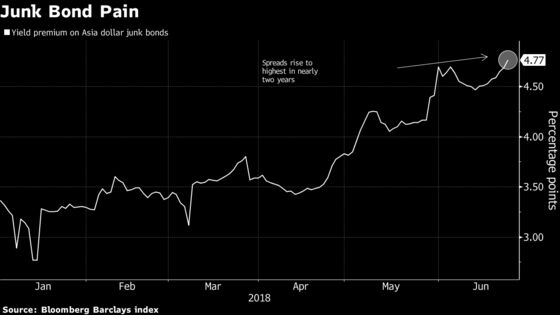 Lombard Odier expects default rates to stay low and has a stable outlook for Asian sovereigns, while good high-yield companies should be able to ride out the cycle, according to Bajaj.
That sanguine view isn't held by all. Australia & New Zealand Banking Group Ltd. expects Asia junk securities to trade at wider spreads as a wall of debt due for refinancing looms.
The lack of a wide distribution for some of the bonds is also hurting the market, and there are few takers for small property companies or Chinese local government funding vehicles, according to Owen Gallimore, head of credit strategy at Australia & New Zealand Banking Group Ltd.
"Unlike globally-sold investment grade bonds, Asia's high-yield investor base remains very narrow and concentrated around Hong Kong," said Gallimore.