China's Economic Growth Seen Holding Up, Bloomberg Survey Shows
(Bloomberg) -- China's growth this year shows no signs of slowing, despite rising tensions with the U.S. over trade and disappointing economic data in May, according to a Bloomberg survey.
The economy will grow 6.5 percent this year, the median estimate of 60 economists shows. That's exactly what the government is targeting, and hasn't changed since mid-January. The result shows confidence in the resilience of the economy, especially considering the deterioration in relations with the U.S. -- the world's largest economy and China's biggest trading partner.
Economic expansion is seen slowing to 6.3 percent next year and 6.2 percent in 2020, according to the survey, which ended on Thursday.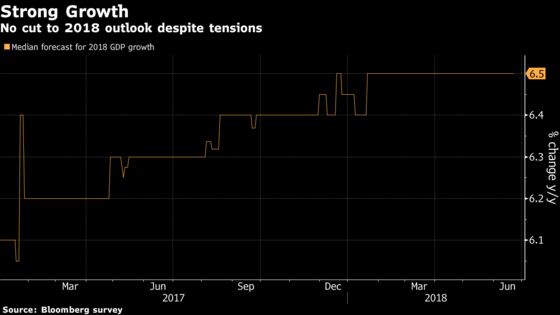 The forecast for economic expansion this quarter was raised on the expectation of higher factory-gate prices and better exports and imports. Gross domestic product will grow by 6.7 percent in the second quarter, up from the 6.6 percent forecast in the last survey, but down from the 6.8 percent achieved in the first three months of the year.
With the global economy recovering and China cutting tariffs from July to boost imports, economists raised their forecasts for trade despite the U.S. and China both pledging to impose tariffs on each other's goods from early next month. The prospect of better external demand will help the world's second-largest economy maintain steady expansion, with the expansion of retail sales this year seen slowing down.
To contact Bloomberg News staff for this story: Yinan Zhao in Beijing at yzhao300@bloomberg.net;Cynthia Li in Hong Kong at cli205@bloomberg.net
With assistance from Editorial Board