China Developers Eye Dollar Bonds Even at Double-Digit Rates
(Bloomberg) -- In what's increasingly a buyer's market for offshore Chinese debt, some of the country's property developers are having to offer double-digit coupons to borrow for just two years.
Zhenro Properties Group Ltd. is planning to offer new two-year dollar bonds in the 11.5 percent area, according to a person familiar with the matter. That leaves it just under the highest-coupon dollar bond to price so far in Asia this year, which was a 12 percent note last month from Shenzhen-based developer Hydoo International Holding, data compiled by Bloomberg show.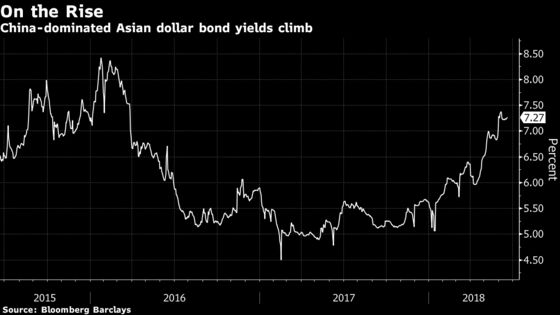 Dogged by surging funding costs onshore due to the government's deleveraging drive and rising yields on U.S. Treasuries, Chinese property companies have paid some of the highest coupons on dollar bonds this year, as they look to refinance a wall of maturing debt. Others have resorted to floating-rate notes to stoke investor appetite.
The four issuers with the highest-coupon bonds are Hydoo, Mingfa Group International Co., China South City Holdings Ltd, and Guorui Properties Ltd., according to data compiled by Bloomberg.
The new deal will be Shanghai-headquartered Zhenro's debut deal in the syndicated bond market. It privately placed $160m of guaranteed notes due May 2019 last month, according to a bond offering document seen by Bloomberg.
Read more about Chinese property bonds:
A developer taps floating-rate notes
More B rated borrowers head offshore
Pimco eyes China developers' dollar debt
Moody's sees a negative rating trend