Shanghai Stocks Hit Lowest Since 2016 as Trump Tariff List Looms
(Bloomberg) -- The Shanghai Composite Index dropped to its lowest since September 2016 and within a whisker of the 3,000-point mark, as the U.S. prepared to release a list of goods upon which it will impose tariffs.
The benchmark closed down 0.7 percent at 3,021.90 on Friday for a fourth straight weekly loss. Kweichow Moutai Co. was the biggest drag on the gauge, which hasn't dropped below 3,000 since 2016. The ChiNext measure of small-cap and technology stocks fell 1.9 percent, and Hong Kong's Hang Seng Index was down 0.4 percent at the close, capping its worst week since March.
"There's worry over the slowing economy and trade tensions as the U.S prepares to release the list of tariff targets," said Francis Lun, Hong Kong-based chief executive officer of Geo Securities Ltd. "All indicators are pointing to an economic slowdown."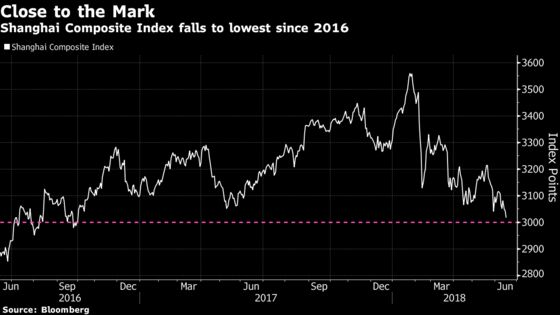 Official data Thursday showed industrial output, retail sales and investment in May were all below economists' expectations, while the central bank's decision to refrain from following the Federal Reserve in raising borrowing costs underscored a level of caution about the state of the Chinese economy. The U.S. tariff plan has compounded the downbeat mood.
Wang Qing, a Shanghai-based analyst at Yuanta Securities Co., said the weaker economic data and U.S. trade dispute have pressured A shares, and that the Shanghai Composite could fall below 3,000 if tariff news prompts panic selling by retail investors.
"Further downside in the market could be limited as China may ease its credit tightening to offset the potential hit from U.S. tariffs," the analyst added.
The Shanghai Composite Index is down 8.6 percent this year, despite hitting a more than two-year high of 3,559 in January. The ChiNext has fallen 6.3 percent year-to-date, while the Hang Seng Index, which hit an all-time high in January, has added 1.3 percent to its 36 percent surge in 2017.
Concern that Chinese depositary receipts will drain liquidity from the market is also weighing on equities, hitting smaller companies hardest, Geo's Lun said. "There's fear that CDRs will take money out of the market because whenever you have large listings there are withdrawals," he said. "Credit tightening and deleveraging are hitting the tech sector or small-cap stocks more."
According to Goldman Sachs Group Inc., there could be more than $700 billion worth of new issuance via CDRs, with the first listing likely in the third quarter.
A measure of telecom stocks on the CSI 300 Index had its worst week since June 2015, dragged by ZTE Corp. China's second-largest telecoms equipment maker, which resumed trading Wednesday after agreeing to pay a U.S. fine of at least $1 billion, tumbled by its 10 percent daily limit for a third day. Its Hong Kong-traded shares have sunk 49 percent in three days.
President Donald Trump has approved tariffs on Chinese goods worth about $50 billion, according to a person familiar with the situation. The U.S. is due to release a list later Friday with more details on the products affected.