Boeing 737 Pitted Against China's Spacecraft as Trade War Grows
(Bloomberg) -- Chinese spacecraft face steep new U.S. tariffs unveiled by the Trump administration. The same goes for "turbojet" engines and large airliners like the Comac C919.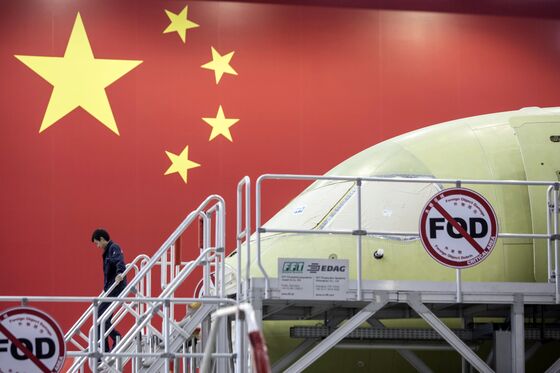 The only problem: The U.S. doesn't import any of these items, and the Chinese industries creating them are just beginning to establish themselves on the global stage. The list of newly taxed items appears aimed at years, or decades, into the future when China is expected to emerge as a threat to Boeing Co. and Airbus SE, said aerospace analyst Richard Aboulafia.
For now, the measures billed as protecting U.S. trade are likelier to harm aerospace commerce between the two nations that's already heavily weighted in America's favor -- by about 17 to 1 -- thanks to Boeing's booming aircraft sales to China's rapidly growing airlines.
"There's only one risk: retaliation," Aboulafia said.
Boeing shares dipped 1.3 percent to $357.88 Friday in New York on the trade war concerns. The performance was the sixth-worst in the 30-member Dow Jones Industrial Average, though the company's 21 percent rise this year keeps it at the top of the ranking.
U.S. aerospace exports to China totaled $16.3 billion last year, while imports came to only $956 million in parts, according to Teal Group analysis of International Trade Commission data.
That favorable balance could shrink if China expands its levies on the 737 jetliner, the biggest source of profit for Boeing, which is the largest U.S. exporter.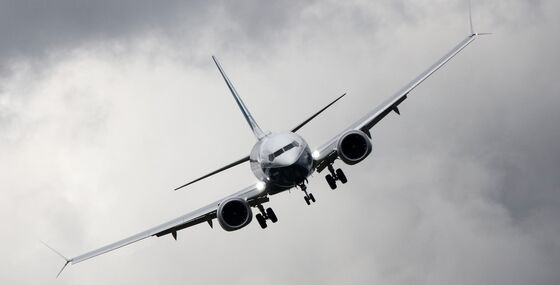 Boeing said in an emailed statement that it's assessing the impacts of the U.S. tariffs and "any reciprocal action" from China. "We will continue to engage with leaders in both countries to urge a productive dialogue to resolve trade differences," the company said.
China had warned that it would respond to U.S. threats with 25 percent tariffs on U.S. aircraft weighing in the range of 15,000 to 45,000 kilograms when empty. That category included the largest Gulfstream luxury jets and older and smaller 737 models, but stopped just shy of penalizing the 737 Max 8 -- Boeing's best-selling new model.
"That was a very unambiguous shot across the bow: Go no further," Aboulafia said. A slight bump up in the Chinese weight restrictions would clip Max 8 sales in Asia's largest aviation market, causing "very clear damage to the U.S. There goes your 17-to-1 trade advantage."
Aircraft weren't among the U.S. goods initially targeted as China retaliated with levies on hundreds of items ranging from whiskey to hybrid-electric cars. But there are other ways the Chinese government could signal its displeasure with the U.S. for taking aim at the aerospace industry, said George Ferguson, an analyst with Bloomberg Intelligence.
Chinese carriers could rattle Boeing investors by canceling or deferring a few aircraft orders, Ferguson said. Or they could create strategic headaches for Boeing by placing orders with competitors that breath new life into Airbus's slow-selling A330neo family or the C Series, the narrowbody that the European planemaker will jointly produce with Canada's Bombardier Inc.
One reassuring factor: China needs Boeing planes to continue a growth spree. The country's airlines can't simply dump Boeing for Airbus, since the French company's popular A320neo jets and A350 wide-bodies are largely sold out through the early 2020s.
"I would almost expect the Chinese to do some face-saving maneuver vis a vis Boeing," Ferguson said in an interview. "But they can't get too aggressive because they need them, unless they want to buy a bunch of Russian stuff -- and nobody wants to buy Russian jets."