Sinopec Seen Top Winner as Pipe Spinoff Frees Up Unit IPO
(Bloomberg) -- While China's move to create a national pipeline giant has taken center stage, investors should focus further out on how that clears a hurdle for Sinopec to spinoff its retail business, a move that may boost the oil giant's valuation.
The listing of the marketing unit by the refining behemoth, officially known as China Petroleum & Chemical Corp., has been awaiting the shift of its oil and fuel pipelines into the new national operator, according to China International Capital Corp. and Sanford C. Bernstein & Co. That's why the pipeline reform may give further impetus for shares of the company to extend a 30 percent rally this year.
To read more about China's plans for a national pipeline company, click here.
China is set to unveil before winter its plans to house pipeline assets owned by Sinopec, China National Petroleum Corp. and China National Offshore Oil Corp. under a new company, Bloomberg News reported Monday. The move would reinforce President Xi Jinping's commitment to overhaul state-owned enterprises and streamline industrial capacity, and be a boon for efforts to use more natural gas instead of coal to cut pollution.
"With pipeline reform moving forward, so too will the IPO," Bernstein analyst Neil Beveridge said in a note on Wednesday, adding that the initial public offering for Sinopec's marketing division would be a clear boost for the stock. "Investors should buy ahead of any announcement, rather than wait till after."
Sinopec shares fell 0.5 percent to HK$7.40 as of the midday break in Hong Kong, compared with a 0.6 percent decline in the city's benchmark Hang Seng Index. State-owned peers PetroChina Co. and Cnooc Ltd. dropped 1.9 percent and 1.2 percent, respectively.
The IPO plans have been cleared by regulators National Development & Reform Commission and State-owned Assets Supervision & Administration Commission, according to Beveridge, citing discussions with the company. It's now awaiting a final go-ahead by the country's top government body, the State Council, he said.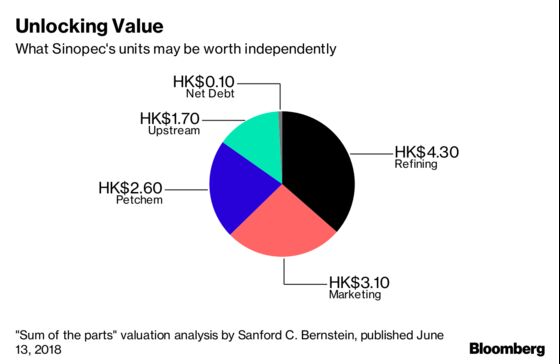 Sinopec's shares jumped to a 10-year high in Hong Kong last month amid a recovery in global crude prices, robust growth in refining profits and generous dividend payouts that top those from its state-run peers. Even after the surge, 19 of the 22 analysts tracked by Bloomberg still have the equivalent of a buy rating on Sinopec, with none recommending a sell.
Still, Goldman Sachs Group Inc. flagged reasons to be cautious when it cut the stock's rating to neutral from buy this month. The company has already delivered solid returns this year and rising crude prices would weigh on the refiner's margins, outweighing the benefit from its exploration and production projects, the New-York based bank said.
Beijing-based Sinopec began reviving efforts in 2016 to list its retail business, which could raise as much as $10 billion. The unit's operations span more than 30,000 fuel stations under its own brand as well as a network of convenience stores. It has planned to issue shares for 10 percent of the division to be called Sinopec Marketing Co., according to statement to the Hong Kong exchange in April 2017.
The marketing division could be worth HK$3.10 a share, or about 40 percent of Sinopec's current share price, according to Bernstein's Beveridge. He estimated the stock has a break-up value -- what the business is worth if its units were to be sold off and operated independently -- of HK$11.70.
The company will benefit the most from the pipeline reform "albeit indirectly," CICC analysts including Nelson Wang said in a note on Tuesday.
The IPO "has been delayed as Sinopec first needs to dispose of its crude and refined products pipeline into the national pipeline company," he said. "The pipeline spin-off clears the very last hurdle of its marketing IPO."