Victor Li Puts Stamp on Empire With $9.8 Billion Energy Bid
(Bloomberg) -- Victor Li, who succeeded his billionaire father last month as head of the CK group of companies, began his tenure with a A$13 billion ($9.8 billion) bid for Australian gas pipeline operator APA Group, the Hong Kong-based conglomerate's biggest overseas acquisition.
The cash offer, split among CK Asset Holdings Ltd., CK Infrastructure Holdings Ltd. and Power Assets Holdings Ltd., was 33 percent higher than APA's closing price on Tuesday. APA shares closed 21 percent higher in Sydney at A$10, a record gain but shy of the A$11-a-share bid.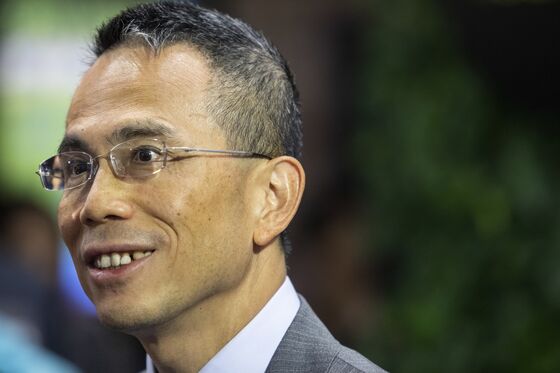 The purchase would give Li a company that delivers about half of the nation's gas and add to an Australian portfolio that already includes power distributor Duet Group. APA also fits the mold of utility or infrastructure firms -- those generating stable cash flows -- that CK companies have been targeting in the run-up to billionaire Li Ka-shing's handover to his eldest son, indicating the group's penchant for safe assets will persist under the younger Li.
"This will be the first big deal after Victor took over the group," said Linus Yip, strategist at First Shanghai Securities Ltd. "If the deal is handled smoothly, Victor will be able to further prove himself internally and to investors."
The deal would also represent more opportunity to diversify away from the U.K., the CK empire's biggest market, amid uncertainties tied to the country's looming separation from the European Union.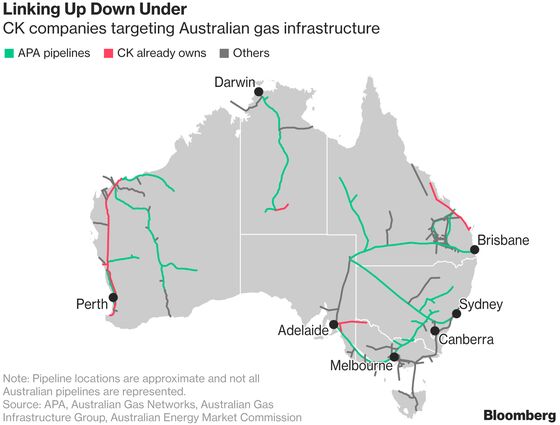 Shares of CK Asset closed down 0.8 percent, while CKI lost 0.3 percent in Hong Kong trading. CK Hutchison Holdings Ltd. unit Power Assets gained 0.3 percent. The companies often team up to buy assets.
Read more: Obstacles facing Victor Li's bid for Australian gas assets
The purchase of APA, whose pipelines span every state and territory on mainland Australia, is subject to regulatory approvals. The Foreign Investment Review Board will examine the deal at a time Australia struggles to ensure sufficient natural gas supplies, which has raised sensitivity over control of infrastructure and domestic producers. Australia has encountered blackouts and rising energy costs amid a bungled transition away from coal that has left consumers with some of the highest power prices in the world.
Li was blocked in Australia before. Prior to Duet deal last year, Australia government rejected bid by CK Infrastructure in 2016 for electricity network Ausgrid. The country's treasurer Scott Morrison said at the time that the deal would undermine national security. Government-controlled Sate Grid Corp. of China was also rejected to buy 50.4 percent of the electricity distributor.
To help smooth the process this time, bidders have already held talks with FIRB and the country's antitrust regulator and offered to sell some assets including APA's interests in the Goldfields Gas Pipeline, Parmelia Gas Pipeline and the Mondarra Gas Storage Facility in Western Australia. The purchase will meanwhile likely deliver synergies with CK's existing operations across the nation, such as Australia Gas Networks and the Dampier to Bunbury pipeline, according to Daiwa Securities Group Inc. analyst Dennis Ip.
To read more about challenges facing the APA bid, click here.
Rising liquefied natural gas exports and regional drilling bans have been blamed for tightening supply, forcing Prime Minister Malcolm Turnbull to threaten limiting overseas sales and sparking efforts to begin importing LNG in high-demand areas. Gas prices on Australia's East Coast market could rise 30 percent over the next five years, driven mainly by declining low-cost domestic supply, consultant Wood Mackenzie Ltd. wrote in a report May 15.