Red-Hot China Job Site Helps CEO Amass a $1.5 Billion Fortune
(Bloomberg) -- The head of China's hottest job site never has to work again.
Rick Yan, chief executive officer of 51job Inc., has amassed a $1.5 billion fortune, according to the Bloomberg Billionaires Index. Yan, who has never appeared on an international wealth ranking, owns 20.8 percent of the Shanghai-based company, which operates one of the country's largest online recruiting and human resources businesses.
Its American depositary receipts -- the ticker is JOBS -- have soared more than 80 percent this year, fueled by surging revenue, which climbed 34 percent to 801 million yuan ($125 million) in the first quarter from the same period a year earlier.
"This better-than-expected top line, plus economies of scale and scope at the core of our business model, resulted in healthy profitability," Yan said during a May 3 conference call to discuss the financial results.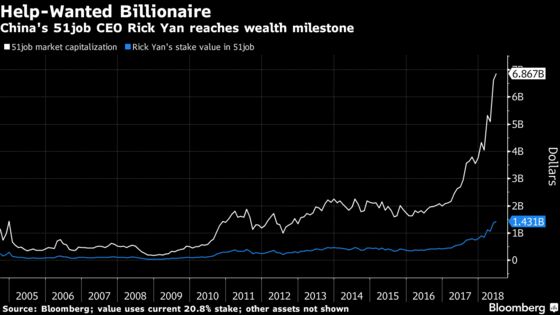 Yan, 55, was an initial investor in 51job and joined as CEO in 2000. He previously worked at Bain & Co. for 11 years, where he set up the firm's Hong Kong and Beijing offices, according to a biography on 51job.com. Yan received engineering and philosophy degrees from the University of Hong Kong, and an MBA from France's Insead.
A company spokeswoman said Yan declined to comment on his net worth.
The company's range of online recruitment and human-resources services is "compelling," particularly as client budgets grow, Ryan Roberts, an MCM Partners analyst who has a buy rating on the stock, wrote in an April research note.