A China Credit Channel Sees Longest Drop Since Stock Crash
(Bloomberg) -- As policy makers tighten the liquidity screws in China, what has been a handy window for companies to raise cash could now be closing.
May capped the fourth straight month of contraction in outstanding loans that publicly listed companies got from securities firms through pledging holdings of stock, Moody's Investors Service data show. While that still left the total, at 1.53 trillion yuan ($240 billion), near a record, it's been the longest run of declines since the epic 2015 stock-market collapse.
Given regulators' focus on reducing leverage, brokerages are growing less keen on share-pledging deals. That threatens particular strain on smaller and medium-sized companies that had turned to this funding channel, with others constricted. (Bigger enterprises typically enjoy ready access to the state-banking system.) And it makes for a bittersweet pill for policy makers, because they've praised the role of smaller, private businesses.
"Firms will find it harder to get financing from share pledging," said Sean Hung, a senior analyst at Moody's in Hong Kong. While systemic risks are limited, "some companies will fail to repay their loans, and brokerages will be unable to dispose their stock holdings," he said.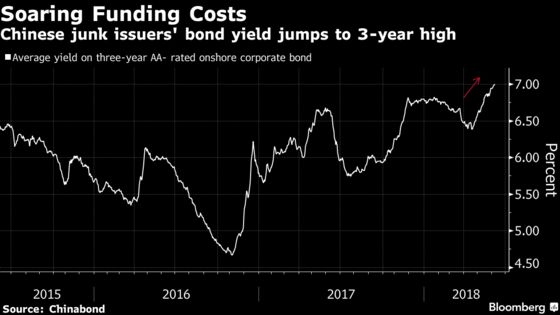 Until the recent drop, share-backed lending had been surging. The total outstanding doubled in 2016, then jumped a further 32 percent last year, reaching a high of 1.61 trillion yuan in January, according to Moody's calculations based on official data.
Officials implemented new rules in March, putting limits on the amount of shares that could be pledged and accepted on the part of companies and their fund providers. They've cracked down in other ways, too. Western Securities Co. said earlier this month it was banned from accepting share pledges due to rule violations.
Some brokerages have learned the hard way about the risks involved. In Western's case, it said back in February it needed to make loss provisions after a sudden collapse of a stock it held as collateral for loans. The Shanghai Composite Index's tumble of 15 percent from its January high, and the danger of share-trading suspensions, are among reasons for securities firms to be wary of the practice.
"The securities companies aren't fools -- they won't do the business when the rules are tighter and the stock market is volatile," said Hao Hong, chief strategist at Bocom International Holdings Co. in Hong Kong. "Smaller companies in the ChiNext Index will be affected most, as it's very hard for them to seek financing" elsewhere, he said.
There's also the potential for a downward spiral. At least 14 China-listed companies have warned in exchange filings since the start of May that their shares could be dumped by brokerages seeking to exit after earlier declines in their stocks. Boomsense Technology Co. suspended trading last week, after some of the equities its major shareholder had pledged for loans hit a threshold that could prompt securities firms to cut their positions, the Beijing-based company said.
For investors, stock-backed lending can serve as a warning sign. If a company uses a large portion of its equity holdings as collateral for cash, that could mean it's got liquidity strains, said Lv Pin, a bond analyst in Beijing at Citic Securities Co.
Case in point: Shenwu Environmental Technology Co.'s parent company pledged almost all of the unit's shares that it held. The parent then defaulted on some of the connected loans, and Beijing-based Shenwu then missed a bond payment a month later.
Adding to strains is the rising cost of refinancing. Yields on three-year AA- corporate bonds -- seen as non-investment grade in China -- have climbed 61 basis points from the year's low in April, to 7 percent on Friday.
About one in seven of the companies pledging shares for loans has committed more than 40 percent their total equity holdings, according to Luo Ting and Huang Weiping, analysts at Industrial Securities Co. The market capitalization of pledged stocks stood at 7.2 trillion yuan, or about 13 percent of China's entire equities market, they said.
"We will see the funding channels narrow further and more defaults being exposed, as officials keep on tightening regulations," said Ding Shuang, chief economist for greater China and north Asia at Standard Chartered Plc in Hong Kong.