Asia Bond Bankers Hit by Slowing Sales as China Demand Wanes
(Bloomberg) -- Asia's bond bankers started the year expecting record business to keep booming. Six months in, a confluence of factors is forcing them to dial back those projections.
Chinese regulatory scrutiny has made the nation's investors, crucial buyers of Asian dollar bonds, hesitate to keep plowing cash into the securities. Defaults among Chinese borrowers have also cast a pall. On top of that, concerns have spread about emerging markets. Rising Treasury yields ahead of U.S. interest rate hikes and a strengthening dollar have pushed up the cost for Asian borrowers to service international debts.
Read details of Bloomberg survey on Asian dollar bond market
A survey of bankers and analysts by Bloomberg News showed expectations for the first half to end on a muted note. Asia ex-Japan issuers may price $16 billion to $20 billion of dollar-denominated bonds this month, according to 16 out of 26 participants in the poll. Assuming the upper range of that forecast, that would bring sales for the first half to about $153 billion, down 4 percent from the same period last year.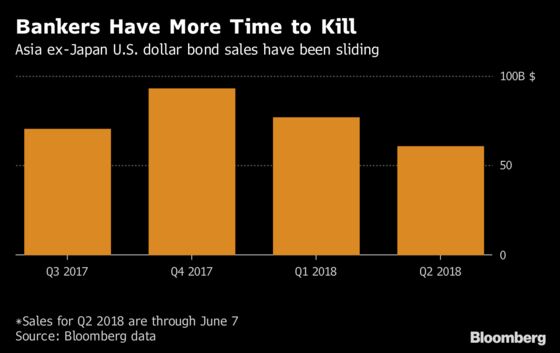 Headlines on trade tensions and political turbulence in Italy also sparked sudden shifts in sentiment in recent weeks. Asia dollar bond issuance this month stands at just $4.1 billion, compared with almost $29 billion in June last year.
The market is definitely playing a flight to safety, according to Citigroup Inc. The bank forecasts a decrease in Asian dollar bond issuance of about 5-10 percent in the third quarter.
"I think there will be a renewed focus on credit principles, meaning the investors would need to pay more attention to the fundamental analysis," said James Arnold, head of Asia Pacific debt capital markets at Citigroup in Hong Kong. "It is only reasonable for investors to start thinking more rigorously on terms and covenants."
Two Chinese issuers, China Energy Reserve & Chemicals Group Co. and CEFC Shanghai International Group Ltd., defaulted on dollar notes in May. That contributed to weaker investor sentiment.
Still, banks, leasing companies and state-owned enterprises have ready access to the bond market, and given refinancing needs of Chinese property companies, there will likely be plenty of sub-investment grade offerings for the rest of the year, according to Julian Trott, head of debt syndicate for Asia-Pacific excluding-Japan at Goldman Sachs Group Inc. Trott doesn't see Asia falling materially behind 2017 issuance levels at year-end, he said.
"Issuers are becoming sensitized to the fact that market conditions have changed," Trott said. "Issuance windows are much shorter, there is more intra-day volatility from global events and as a consequence issuers are becoming more responsive and more flexible."