Kim Jong Un Arrives in Singapore Ahead of Historic Trump Summit
(Bloomberg) -- Kim Jong Un arrived in Singapore on Sunday, kicking off a landmark trip by the once-reclusive North Korean leader ahead of his historic summit with U.S. President Donald Trump.
Kim -- the first North Korean leader to visit the city-state -- flew in aboard a 747 flown by state-owned Air China Ltd. and greeted at Changi Airport by Singaporean Foreign Minister Vivian Balakrishnan. Crowds lined the streets as he traveled by motorcade to his hotel, the St. Regis. Trump was scheduled to arrive later this evening, after flying directly from G-7 meetings in Canada.
Kim later met with Singapore Prime Minister Lee Hsien Loong, and thanked him for hosting the summit. "If the North Korea-U.S. summit meeting is fruitful, then the Singapore government's efforts will remain recorded in history forever," Kim told Lee.
The trip to Singapore -- almost 5,000 kilometers (3,000 miles) south of Pyongyang -- represents Kim's farthest foray from home since taking power after his father's death in 2011. The city-state of 5.5 million serves as neutral turf for both sides, since it has security partnerships with the U.S., a North Korean embassy and strong ties with China.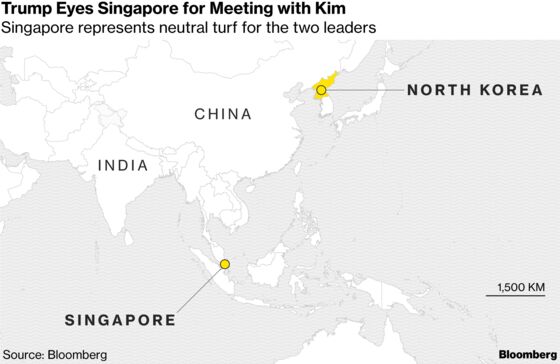 Trump and Kim are due to meet face to face at 9 a.m. Tuesday for the first-ever meeting between a sitting U.S. president and a North Korean leader. Trump intends to briefly meet Kim one-on-one at the beginning of the meeting, according to a U.S. official familiar with their plans.
Reuters reported that Kim was scheduled to depart Singapore at 2 p.m. local time on Tuesday, citing a source involved in the planning of his visit. Trump planned to leave the city-state on Wednesday morning local time, the Wall Street Journal reported, citing a source.
Trump is gambling that the direct exchange can overcome decades of distrust between the two Korean War sides and convince Kim to give up his nuclear arsenal. Merely securing a meeting with an American president -- a long-time North Korean demand -- helps give him new status as a world leader.
Trump said Saturday that he thought he would know "within the first minute" if Kim was serious about giving up his nuclear arsenal and whether "something positive will happen." The plan is to wrap up the meeting in the evening and, if things go well, for the leaders to agree to a joint declaration, according to another U.S. official.
After making no foreign trips for more than six years, the North Korean leader has visited China twice and met South Korean counterpart Moon Jae-in on the southern side of their militarized border. Kim's trip aboard a Chinese-owned passenger plane was indication of the role Beijing plays in guaranteeing Kim's security.
The North Korean leader's delegation used three planes in all, the Straits Times and other local media reported, with one carrying his personal Mercedes, food and other supplies for the multi-day excursion.