China's Massive Trade Surplus Shrinks, Just Not With the U.S.
(Bloomberg) -- China's massive trade surplus with the world shrank in May. Unfortunately for the ongoing tensions with President Donald Trump, the surplus with the U.S didn't.
The trade gap with the U.S. swelled to $24.6 billion, making up almost all of the total surplus of $24.9 billion. Overall, exports rose 12.6 percent in May from a year earlier while imports surged 26 percent, partly due to higher oil and other commodity prices. Shipments to the U.S. were up 11.6 percent, the most since February.
While the deal to allow ZTE to restart business removes one irritant in the U.S.-China relationship, Trump's main concern is cutting his nation's persistent trade deficit. He has threatened to slap tariffs on at least $50 billion in Chinese imports shortly after publishing a final list of targets on June 15. The more than $2 billion expansion of his nation's deficit with China in May from April won't improve that situation.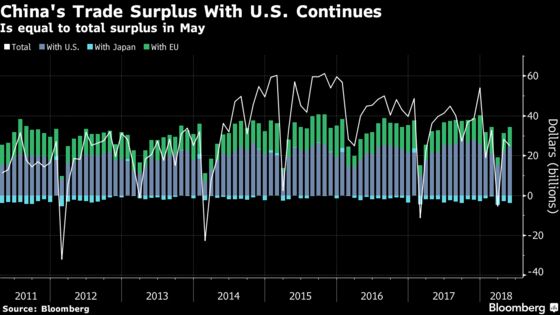 "The optics of the heavy reliance on the U.S. market for surplus generation will be negative in the context of ongoing trade negotiations and could harden the U.S.'s stance and thus reduce odds of a deal," said Dariusz Kowalczyk, senior emerging-market strategist at Credit Agricole SA in Hong Kong.
U.S. data show the goods trade deficit with China rose to a record $375 billion last year. Including services, in which the U.S. runs a surplus with the Asian nation, its total deficit was smaller.
China's trade surplus of $105 billion with the U.S. in the first five months of this year was even higher than its total trade surplus, said Larry Hu, a Hong Kong-based economist at Macquarie Securities Ltd. "China's high trade surplus with the U.S. is partly due to its position in the global supply chain, as its trade deficits with Japan, Korea and Taiwan amounted to $102 billion over this period."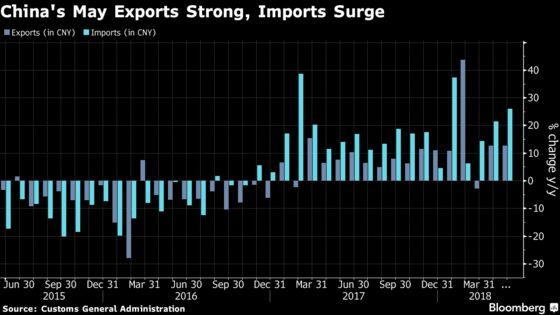 The export strength in May may even have been driven in part by the trade tensions as companies book orders while they still can.
"The particularly strong May figures are due to uncertainties from the trade negotiations," said Iris Pang, an economist at ING Groep NV in Hong Kong and the only accurate forecaster of May import growth in a Bloomberg survey. "Exports risks are mounting, so the exporters expedited importing components for re-export."