China Banks Yet to Feel the Worst of Deleveraging Pain, UBS Says
(Bloomberg) -- China's banks have managed to sidestep the severest curbs on their shadow banking activity, suggesting the real pain of the deleveraging process lies ahead, according to a report by UBS Group AG.
A squeeze on their interbank borrowing was mitigated through extensive use of a short-term funding instrument called negotiable certificates of deposit, the report by UBS analysts led by Jason Bedford said. Regulators have clamped down on interbank activity because some banks had used it to boost shadow loans and add leverage.
"We believe many market watchers have overestimated the rate of progress" in credit tightening, Bedford's note said. "A meaningful re-balancing of the banking sector will be a long, drawn out process."
NCDs issued by banks grew by 1.5 trillion yuan ($235 billion) in 2017, offsetting the 1.3 trillion yuan decline in interbank borrowing, according to UBS, which compiled the data from regulatory filings. This helps explain why the credit tightening that started in early 2017 hasn't proved more painful for the banking sector, UBS added.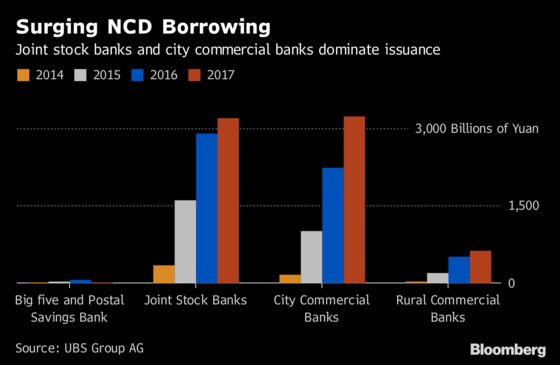 It also suggests the deleveraging process has a long way to go. "We are still early in the credit tightening process with a low likelihood of easing on the horizon," Bedford's report said.
Even though banks' asset growth slowed sharply in 2017, there was no material improvement in their deposit franchises. Deposits as a percentage of liabilities only increased 4 basis points in 2017 from a year earlier to 71.84 percent, according to the UBS analyst, who plowed through financial statements of 244 Chinese banks.
The banks are showing an "unexpectedly lackluster" improvement in liability profiles, according to Bedford.
China allowed sales of NCDs in December 2013 as a fresh fund-raising avenue for smaller lenders, which have difficulty competing for savings with multi-branch state banks. Between 2014 and 2016, issuance surged 22-fold to a record 20.2 trillion yuan, according to data compiled by Bloomberg.
The central bank plans to include NCDs issued by financial institutions with total assets of less than 500 billion yuan in the calculation of their interbank liabilities from the first quarter of 2019. Those issued by larger lenders have been included since the first quarter of this year. Currently, banks are required to cap their interbank borrowings at no more than a third of total liabilities.
"We found that many bank and non-bank lenders believe we are still early in the credit tightening process," Bedford said. "Credit tightening could extend over a multi-year period."