China Beer Stock Bulls Pine for Vindication on Valuations
(Bloomberg) -- Investors in Chinese brewing stocks may have beer goggles on.
While the sector lags behind global brewers in operating margins and earnings growth, the companies trade at a premium that outstrips their peer average by several times -- thanks in part to the U.S.-China trade tension that recently sparked a wave of demand for shares of domestically focused sectors from beverage to health care.
But barring a major improvement in their razor-thin profit margin and significant consolidation of the fragmented industry, investors bidding up Chinese beer stocks like Tsingtao Brewery Co., Beijing Yanjing Brewery Co. and China Resources Beer Holdings Co. may end up disappointed.
To Sanford C. Bernstein analyst Euan McLeish, those investors' only hope is for a "moonshot" of sorts.
"They're looking for a huge margin inflection from beer companies," he said. "In reality, the beer industry here has four big players fighting intensely. In that environment, why would there be massive margin change irrespective of strategy change?"
As Chinese stocks entered the MSCI Inc.'s equity indexes for the first time this month, the disconnect between Chinese brewers' fundamentals and valuation is increasingly evident -- and worrisome.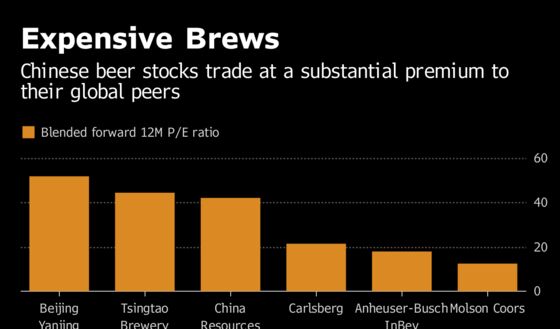 Of the 200-plus A-shares to be included in MSCI's indexes, Tsingtao Brewery, China's second-largest brewer by sales, has the most bearish outlook: its stock is 30 percent higher than the average analyst consensus, according to data compiled by Bloomberg. Beijing Yanjing, the third-largest local brewer, is 19 percent over its target price, while China Resources Beer is more than 5 percent over target in Hong Kong trading.
Tsingtao, which has climbed more than 50 percent over the past 12 months, added 0.5 percent in trading in Shanghai on Tuesday. Beijing Yanjing, up 32 percent over the year, increased 1 percent, while China Resources, which touched an all-time high last week, slipped 0.3 percent in Hong Kong.
This month's World Cup and early signs of volume growth in China's beer production are boosting recent sentiment, said Sinolink Securities analyst Jie Yu. According to official data compiled by Bloomberg, beer output grew 2.5 percent in March and 6.1 percent in April, compared to declines in the same periods a year ago. And demand will likely surge for the month of June due to the quadrennial soccer extravaganza.
Fidelity International fund manager Lynda Zhou said the bull run that the sector has been on since December last year is being pushed in part by product price increases announced by top Chinese brewers this year. That's a sign that they are abandoning their damaging price wars and moving to capture higher margins, she said.
The average profit margins of Chinese brewers have been between 2 to 5 percent, while the average globally is 8 to 15 percent, she noted, "so there is a large space for margin growth to reach global levels."
For Morningstar Investment analyst Allen Cheng, such investment logic must be ultimately reflected in earnings growth, or else foreign capital will judge the logic as empty.
That supposed space for margin growth has been apparent for decades. The thin profit margins among local brewers is due to the fragmented nature of local demand, with four or five major brewers duking it out for market share.
The norm in most other beer markets is to have only one or two major brewers dominate demand, enabling higher profit margins. In the U.S. for example, Anheuser-Busch InBev has 43.4 percent of the market while Molson Coors Brewing Co. has 25.4 percent, according to Euromonitor International data for 2017.
In the absence of an acquisition deal between any of the top Chinese brewers, it's hard to see how margin growth would be realized, said Sanford C. Bernstein's McLeish. While there's been persistent talk that China Resources Beer could acquire Yanjing, a deal has so far not materialized.
And while local brewers are pivoting to more premium beers to capture the Chinese middle-class demand for higher-quality goods, early signs indicate that those aspiring drinkers are turning to foreign labels like AB InBev's Budweiser and Hoegaarden brands instead.
According to 2017 data from Euromonitor, AB Inbev now has 16.1 percent share of the local market, up from 13 percent five years ago, while Yanjing has 10.3 percent, down from 11.2 percent five years ago. China Resources Beer and Tsingtao have roughly held steady.
As the most premium of the local brewers, Tsingtao may be best-positioned to put up a fight for higher-end market share. Investors certainly have their fingers crossed that reality will soon catch up to the lofty heights the stock has reached.