As U.S. Confronts China on Trade, Taiwan Tensions Quietly Build
(Bloomberg) -- Even as defense ministers and military chiefs meeting in Singapore called out China for parking missiles on outposts in the disputed South China Sea, a bigger potential China-related hot spot looms.
Concern about Taiwan -- and recent sparring between Beijing and Washington over the democratically run island -- percolated discussions at the annual IISS Shangri-La Dialogue, which was otherwise focused on action further south. U.S. Secretary of Defense James Mattis warned China against disrupting the "status quo" on Taiwan, as Beijing steps up air-and-sea maneuvers nearby and accelerates efforts to isolate Taipei.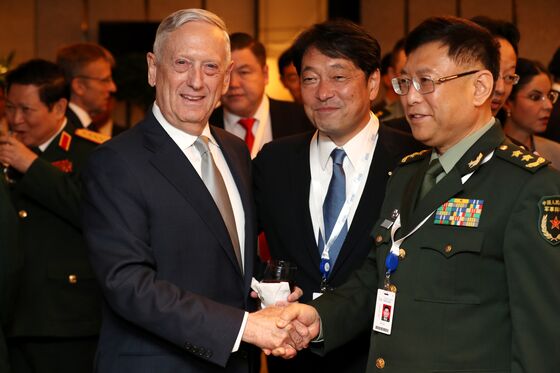 Taiwan's advocates in Washington have intensified calls for more U.S. support as President Donald Trump confronts China on a range of trade and security issues. The stakes in Taiwan are even higher than in the oft-discussed South China Sea, since China considers the island of 23 million people to be a renegade province.
Several U.S. lawmakers pledged greater military support for Taiwan during visits to the Shangri-La gathering, where some had arrived after stopovers in Taipei. Taiwan had only an unofficial presence at the meeting, represented by two people.
U.S. House Armed Services Committee Chairman Mac Thornberry, a Texas Republican, called China's recent actions on Taiwan "concerning" in an interview Saturday with Bloomberg.
"You will see the United States continue to support Taiwan's military efforts to be able to prevent unilateral action against their interests," Thornberry said. "We will I think continue to support military equipment and whatnot with Taiwan, so they have significant military defenses."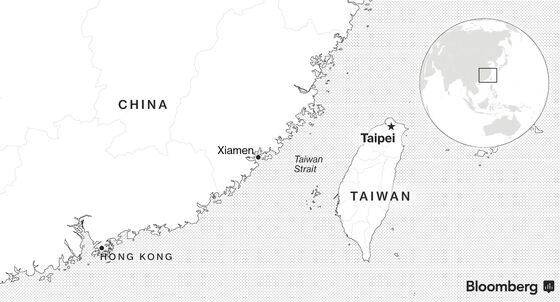 Asked if future Taiwan arms deliveries could include missile defense, Thornberry noted that legislation recently passed by the House "suggests we should do more with a number of countries in the Indo-Pacific region on missile defense." The bill doesn't mention Taiwan by name.
An annual defense spending bill passed by the House last month also calls for the Pentagon to conduct an assessment of Taiwan's military. Trump has separately signed a law allowing high-level official visits to Taiwan, a move that would elevate its diplomatic status.
China has made acceptance of its "one-China" claim a precondition for ties, including with the island's government. Taiwanese President Tsai Ing-wen has angered China since her 2016 election by refusing to endorse that framework and pushing for security and economic ties with the U.S., Japan and others.
Trump held a conversation with Tsai before taking office, in a break with decades of U.S. policy against elevating Taiwan's diplomatic status. The U.S. president has shown a willingness to use geopolitical leverage in his disputes with China, which has long protested American arms sales to the island.
In a March address to China's parliament, President Xi Jinping warned that efforts to widen divisions with Taiwan would be "punished by history." The government recently ordered all airlines to stop referring to Taiwan and the former colonies of Hong Kong and Macau as countries, something the White House described as "Orwellian nonsense."
"The Chinese government and its people strongly oppose arms sales to Taiwan, all kinds of official government contacts to strengthen their ties with Taipei, as well as other acts to harm the one-China principle," Lieutenant General He Lei, who led the Chinese delegation to the Singapore forum, told reporters Saturday. "The People's Liberation Army has the determination, confidence and capability to safeguard the motherland's safety, territorial sovereignty, integrity and its developing interests."
In Taipei, Tsai has stepped up military exercises to demonstrate the island's capability to repel an attack from an increasingly powerful China. Starting Monday, the government will conduct its largest annual series of live-fire drills, simulating an attempted Chinese invasion.
Former Taiwan Defense Minister Andrew Yang, who is now secretary-general of the Chinese Council of Advanced Policy Studies in Taiwan, said that Taipei expected the U.S. to provide more weapons and security exchanges.
"The support is not just lip service, but should take action," Yang said in an interview on the sidelines of the Singapore forum. "It is only by continuing to support Taiwan that the U.S. can gain the trust of other countries such as Japan and South Korea."
Senator Cory Gardner, a Colorado Republican who visited Taipei en route to Singapore, demurred when asked about details of his meeting with Tsai. The Taiwanese president said on Twitter that Gardner's "staunch support" showed China's pressure would only rally Taiwan's friends.
Gardner supports U.S. Senate legislation called the Asia Reassurance Initiative Act that backs regular U.S. arms sales to Taiwan alongside diplomatic and defense contacts.
"We have to stand up against Chinese heavy-handed tactics," Gardner told reporters. "This is the only democracy on Chinese soil and so this is an important engagement we continue."