ZTE Culled From List of Chinese Stocks to Be Admitted to MSCI
(Bloomberg) -- ZTE Corp., the Chinese telecommunications-equipment maker at the heart of a trade spat with the U.S., has had its yuan-denominated shares cut from a list being added to MSCI Inc.'s global benchmarks.
Shenzhen-based ZTE was one of five companies removed because their shares are suspended from trading, MSCI said in a statement Wednesday evening. Trading in ZTE has been halted since April 17 after the company was banned from doing business with U.S. suppliers as punishment for allegedly lying to American officials in a sanctions case. Its Hong Kong-listed shares, also suspended since last month, are already in MSCI gauges.
MSCI will include more than 200 Chinese securities in its indexes from Friday. Like ZTE, China Railway Group Ltd., whose H shares are in the MSCI China Index, has been removed from the list, along with Beijing Orient Landscape & Environment Co., China Hainan Rubber Industry Group Co. and Shanxi Taigang Stainless Steel Co.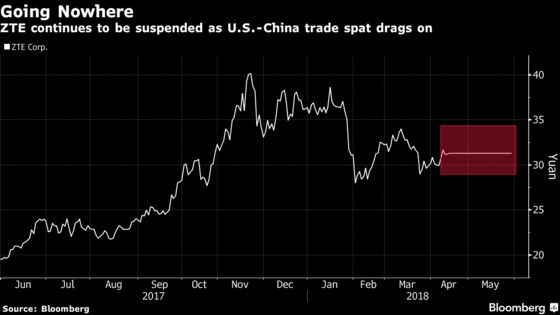 Trading halts happen more frequently in China than elsewhere -- the value of frozen shares on the country's exchanges exceeded $456 billion in March, 3,150 times more than in the U.S. The propensity to suspend trading was one of the reasons MSCI rejected mainland-listed shares previously. The index compiler's next review will be on Aug. 13.
ZTE said Wednesday that trading in its shares would remain suspended for now. U.S. President Donald Trump last week said ZTE could remain in business if it paid a $1.3 billion fine, changed its management and provided security guarantees, though the proposal faces opposition in Congress.