Road to China Drug Riches Runs Through the Bronx, New Jersey
(Bloomberg) -- Lou Jing earned a Ph.D at Fordham University in the Bronx before completing post-doctoral studies at the National Institutes of Health. Frank Zhang got his from Duke University before heading to New Jersey for a job with Schering-Plough Corp.
The two Chinese have much more in common than just a U.S. education. They're among at least 15 billionaires to emerge from their country's booming pharmaceutical industry, the world's second-biggest, as China recently adopted rules to speed up drug approvals.
Lou, the 55-year-old chairman of 3SBio Inc., owns 26 percent of the drugmaker directly and through holding companies with his father and wife, giving him a $1.8 billion fortune, according to the Bloomberg Billionaires Index. A spokeswoman declined to comment on his wealth.
His net worth surged more than 30-fold over the past five years after Lou opted to delist from Nasdaq and return to his homeland in 2013, when the company's market value was $392 million. Shares of the firm, which makes drugs to treat breast cancer and immune thrombocytopenia, a blood disorder, started trading in Hong Kong two years later. Today it's worth about $7.2 billion.
"When he was a graduate student, I did not perceive that he had any interest in the potential financial benefits of doing science," Berish Rubin, a biology professor who taught Lou at Fordham, said in an email. "He was genuinely interested in the discovery process and he went about it in a very systematic and effective manner."
China, the world's most populous country, has an aging problem. The United Nations projects the number of Chinese 65 and over will exceed those 14 or younger by 2030.
"Given the demographics in China, given the increased health-care spending, the cost of health-care reform, we feel that we are one of the best-positioned companies that will be benefiting from this going forward," Chief Financial Officer Bo Tan said Wednesday in an interview with Bloomberg Television.
Zhang is the chairman and chief executive officer of GenScript Biotech Corp., the first company to win Chinese government approval to start human trials for a blood cancer treatment called CAR-T. Shares of the company, in which he owns a 21 percent stake, more than doubled since the December announcement, lifting his net worth to $1.3 billion. A spokeswoman confirmed his stock ownership.
Zhang, 53, studied biochemistry at Duke and was a postdoctoral research fellow and an associate principal scientist at Schering-Plough before he founded GenScript in New Jersey in 2002. The company, which conducts research and has its main production in Nanjing, China, forged a partnership with Janssen Biotech, a unit of Johnson & Johnson, receiving a $350 million payment last year.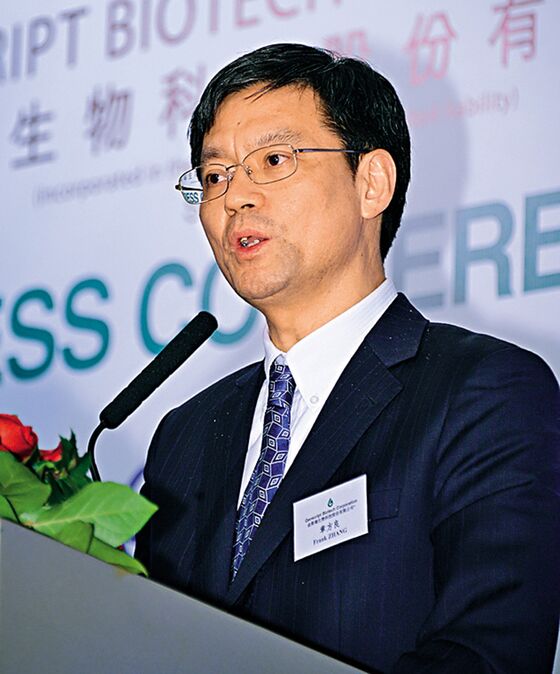 It's considering a separate listing on Nasdaq or the Hong Kong stock exchange in about three years for Nanjing Legend Biotech, its cancer-drug arm, Zhang said in an interview earlier this year. Shares of GenScript slid 2.6 percent Friday to HK$28.55, paring its gain for the year to 43 percent, while 3SBio slid 1.6 percent, trimming its 2018 advance to 44 percent.
China's health-care industry is on a tear, with revenue climbing an average of 26 percent last year for 253 Chinese biotech and pharmaceutical companies examined by Bloomberg.
Health care has "demonstrated solid financial performance, revenue and profit growth, leading among all industrial sectors," Zhang Jialin, an industry analyst at ICBC International in Hong Kong, said in an email. "Favorable policies are being carried out by regulators to speed drug review and approval."
An extreme example is Chongqing Zhifei Biological Products Co., which tripled its revenue in 2017 from a year earlier. The company's shares soared more than 65 percent this year as the government cleared it to market an HPV vaccine in a partnership with Merck & Co. That vaulted Chairman Jiang Rensheng, 64, into the Bloomberg ranking of the world's 500 richest people with a $4.7 billion fortune.