China's Factory Boom Doesn't Look Sustainable
(Bloomberg) -- China's economic data are giving some mixed signals that don't bode so well for expansion in the second half of the year.
Humming factories lifted the official manufacturing gauge above economist estimates in May, following an acceleration of industrial production in April. Even so, gauges of demand across property, investment and consumption indicate weakness is in store.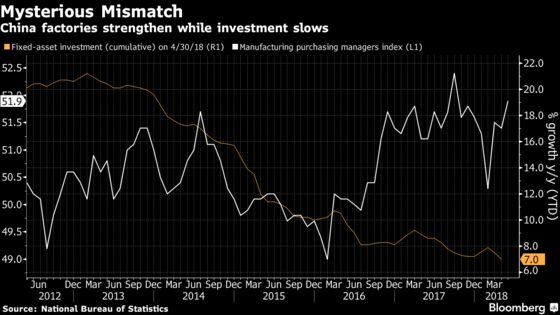 That's because output from factories and assembly lines is getting a boost from temporary factors that won't last, according to Lu Ting, chief China economist at Nomura Holdings Inc. in Hong Kong. He says exporters accelerating production ahead of potential U.S. tariffs and resurgent demand after output was curbed by strict winter pollution controls are both offering a boost that will prove transitory.
"We're going to see strong headwinds in the second half" of this year, Lu said, adding that such a scenario will likely spur policy makers to increase support for growth.
Key data show faltering demand. Investment in fixed assets decelerated in the first four months of the year to the weakest pace since 1999, led by a sharp slowdown in infrastructure investment, and retail sales growth is at one of the lowest levels in more than a decade.
External demand also faces more uncertainty as Donald Trump threatens to move ahead with additional tariffs on $50 billion of imports from China, and economic indicators for key trade partners shows they may be losing steam.
Li Wei, a senior economist at Standard Chartered Plc in Shanghai, also expects that the factory resurgence is poised for a reversal. "Weakening demand will gradually feed through to factory production," he said.