Shanghai Shares Close at Lowest Since 2016 as MSCI Debut Looms
(Bloomberg) -- Mainland China shares slid to their lowest level since October 2016, just two days before joining MSCI Inc.'s global benchmarks, as trade tension with the U.S. flared again and turmoil in Italy weighed on markets worldwide.
The Shanghai Composite Index dropped 2.5 percent, the most in two months, taking its six-day drop to 5.4 percent. That's the longest losing streak since 2013, leaving attempts at a rally earlier in May a distant memory. The Shenzhen Composite Index slid 2.8 percent, while Hong Kong markets also retreated, with the Hang Seng China Enterprises Index closing at its lowest level this year. A decline in the yuan after a record rally added to jitters.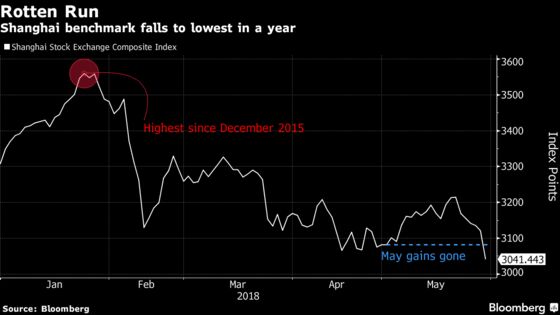 Chinese stocks have had a volatile 2018 as trade tension brewed with the U.S. and other factors such as Beijing's deleveraging campaign and a growing number of defaults provoked investor uncertainty. On Tuesday in the U.S., President Donald Trump said he will impose tariffs on $50 billion of Chinese imports and restrict investment in sensitive technology. The decline in equities comes also as political ructions in Italy reverberate through markets.
"We are seeing selloffs across the board today as risk aversion is rising amid the jitters in Italy and Trump's new play on trade," said Linus Yip, strategist at First Shanghai Securities. "Trump's new card is the tariff list due June 15, which is three days later than the meeting with Kim. If the meeting with North Korea doesn't yield a good result, the tariff list will go real. That prospect looks very likely and worries the market."
MSCI will include more than 200 locally listed Chinese companies in its indexes from June 1. Their weighting will be small relative to the size of the market, but the inclusion is a milestone in the opening of China's capital markets and will lead to significant investment inflows. Read more on Why China's MSCI inclusion matters.
The slide in Chinese equities prompted some speculation that the so-called national team may act to prop up the market. But there was little evidence of buying by state-backed funds, as losses accelerated toward the close.
"I don't think the national team will step in at the moment since the A-share market seems in an early stage of risk-off trade," Central China Securities Co. strategist Zhang Gang said. "There could be more downside and the next testing level is 3,000," he said, referring to the Shanghai benchmark, which closed at 3,041.44.
Dai Ming, a Shanghai-based fund manager with Hengsheng Asset Management Co., said the selloff in Chinese stocks presents a good buying opportunity, especially for long-term investors, as trade concerns should be a shorter-term issue.
"Trump's tone on trade has changed frequently and has been rattling the market repeatedly, leading risk appetite in China to an extremely low level," he said.
Here's a summary of some of the main moves on Wednesday:
Shanghai Composite Index falls 2.5% to lowest since October 2016
Shenzhen Composite slides 2.8%, lowest since Feb. 13 and biggest loss in two months; small-cap ChiNext gauge drops 2.7%
Hang Seng Index declines 1.4% and Hang Seng China Enterprises Index drops 1.6%
"The Shanghai Composite may not drop below 3,000 in the short term as upcoming economic figures should be good and support a rebound," says Ken Chen, Shanghai-based strategist with KGI Securities. "But if the index fails to hold above 3,000, the national team will step in to prop up stocks to prevent a bigger selloff"
Chinese developers among worst performers in Hong Kong and mainland, extending Tuesday's losses; Shanghai Property Index falls 2.6%, most since Feb. 9, while Hang Seng Properties Index loses 1.3%