Alibaba Unit's Mystery Jump in Focus After $1.4 Billion Deal
(Bloomberg) -- For the past few days, the question has been popping up on trading desks across Hong Kong: What's up with Alibaba's health unit?
Largely ignored by analysts and stuck in a tight trading range for more than a year, the stock on May 17 suddenly turned into one of the world's best performers for no apparent reason. It surged 56 percent in the span of six trading days, with turnover in one session almost doubling that of HSBC Holdings Plc -- a company about 20 times its size.
The burst of activity is now raising eyebrows after Alibaba Health Information Technology Ltd. announced a $1.4 billion deal on Tuesday to buy assets from its e-commerce parent. The news boosted Ali Health's stock by 3.8 percent to HK$7.03 at 3:19 p.m. in Hong Kong, putting it on course for the highest close in almost two years.
"Based on the verticality of that line, it would seem you have really, really strong initial evidence that something abnormal was happening" to Ali Health's shares before Tuesday's announcement, said Christopher Balding, a professor at Peking University's HSBC Business School.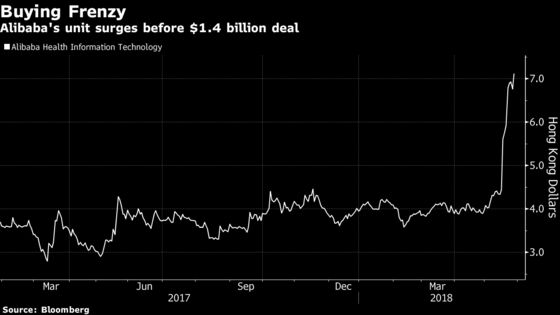 Ali Health said in an email that while it can't comment directly on the share price, "we believe our strong results have helped to build up confidence from the market." On May 16, the company reported a more than 400 percent increase in revenue and a nearly 250 percent jump in gross profit. At the same time, it recorded a net loss for the period and its gross profit margin shrank.
A spokeswoman for Hong Kong Exchanges & Clearing Ltd. said the exchange doesn't comment on individual shares, while a spokesman for the city's Securities and Futures Commission declined to comment.
The deal with Jack Ma's Alibaba Group Holding Ltd. will inject a plethora of health-related businesses into Ali Health in return for new stock in the unit. Alibaba Group will control a 56.2 percent economic interest and 67.5 percent of the voting interest in the health company after the transaction.
"This is a good deal for Alibaba Health," said Steven Leung, an executive director at Uob Kay Hian (Hong Kong) Ltd.
It also makes recent buyers of the shares look prescient. This month's gains have turned Ali Health into easily the best performing stock in the MSCI Asia Pacific Index. The shares repeatedly generated more turnover than most of Hong Kong's biggest companies last week, with the bulk of the buying on busy days originating from the Chinese side of the China-Hong Kong exchange links.
The unusual activity hasn't been limited to just one Alibaba subsidiary. Alibaba Pictures Group Ltd., also listed in Hong Kong, surged 32 percent on May 24 as Chinese buyers piled in. The stock gained as much as 8.5 percent on Tuesday.
Authorities in Hong Kong and China have said they're increasing scrutiny of cross-border trading practices after the first of two equity links began in 2014. A new investor identity system is set to start in late 2018, making it easier for regulators to see who is behind trades.