Moon Says Kim Wants U.S. Talks, Committed to Denuclearization
(Bloomberg) -- Kim Jong Un agreed to hold talks with the U.S. to pave the way for a summit with Donald Trump and reiterated a pledge to work for "complete denuclearization," according to South Korean President Moon Jae-in.
Moon said he met Kim on Saturday after the North Korean leader requested a casual meeting. He relayed Trump's desire to end hostile relations if North Korea "is resolute and implements complete denuclearization."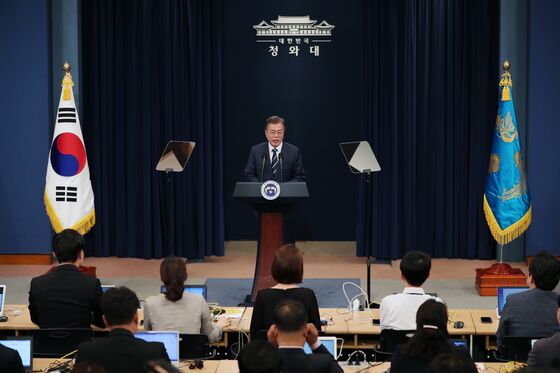 "Kim, once again, made clear his intent on complete denuclearization of the Korean Peninsula," Moon told reporters in Seoul. "Kim said he'll end the history of war and confrontation and cooperate to bring peace and prosperity through a successful North Korea-U.S. summit."
Trump told reporters on Saturday night that talks with North Korea were going well, and he's still looking at possibly meeting Kim on June 12 in Singapore. A White House team will travel to Singapore as earlier planned to continue preparations for the on-again, off-again Trump-Kim meeting.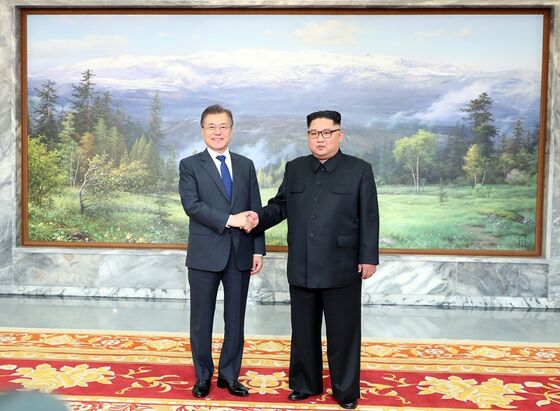 North Korea's state news agency, KCNA, later said the Korean leaders had agreed to "high-level" talks between the two countries on June 1. "They shared the opinion that they would meet frequently in the future to make dialogue brisk and pool wisdom and efforts," KCNA said.
The unexpected summit -- the second between Kim and Moon in as many months, and just the fourth between leaders of the two countries since the Korean War -- reflects urgency among both men to maintain momentum for diplomacy.