China Gas Revamp Fuels PetroChina Rally as Distributors Battered
(Bloomberg) -- PetroChina Co. rallied the most in two years after regulators unveiled a new gas market policy that harmonizes prices for different users and is seen as an earnings boost for the nation's biggest producer and importer of the fuel.
The company's Hong Kong-traded shares closed 6.5 percent higher in reaction to an announcement Friday that the pricing mechanism for gas sold for residential use will match those for industrial customers, including higher city-gate prices, or the amount distributors pay suppliers.
Meanwhile, China Resources Gas Group Ltd., China Gas Holdings Ltd. and ENN Energy Holdings Ltd. slumped as the move is seen undercutting the profitability of the nations' three largest firms that deliver the fuel to homes and businesses.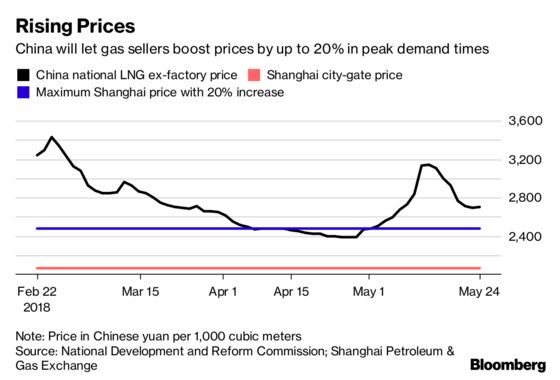 China's gas demand is booming, driving the country to become one of the world's biggest importers, as President Xi Jinping's government seeks to replace some coal use with the cleaner-burning fuel, part of broader efforts to roll back the country's notorious pollution. The new policy is aimed at boosting gas supply and more-efficient use to avoid crippling shortages, particularly during winter.
"With a rise in the residential tariff, upstream suppliers are more motivated to produce and import gas to satisfy growing residential demand," Daiwa Securities Group Inc. said in a note, adding this helps to strengthen supply reliability to homes. The high exposure to the residential market makes China Resources Gas "the most vulnerable play among the big three distributors."
PetroChina, the nation's biggest producer, importer and seller of the fuel, stands to gain as the policy helps to ease losses from selling costly overseas supply at lower government-set rates. The move will boost earnings by 5 percent this year, or 4.2 billion yuan, and a further 13 percent next year, Sanford C. Bernstein & Co. analysts including Neil Beveridge wrote in a report, adding they expect more gas market liberalization to come, with pipeline reform the next major step.
While gas distributors will be able to pass through the full cost of the increase over time, margins will be compressed this year, Bernstein's Beveridge wrote in a report. Towngas China Co. could see a 7 percent reduction in net income, while China Resources Gas, ENN Energy and China Gas may take a 2 to 4 percent hit, they estimate.
PetroChina Co. closed at HK$6.44 after its biggest gain since April 2016, and as Nomura Holdings Inc., Huatai Securities Co. and Bernstein raised their price targets for the stock. China Resources Gas pared earlier losses to close 2.7 percent lower at HK$29.10 in Hong Kong.
"The harmonization of residential and non-residential gas prices is a major step toward market liberalization and a major win for PetroChina, who has lobbied for this for years," Bernstein's Beveridge wrote in the report.
China's gas demand rose 15 percent last year, and another 17 percent in the first quarter, amid a rocky transition toward using more of the fuel. While imports surged -- forcing global spot prices to three-year highs -- the nation was rattled by a supply crunch last winter amid delays converting boilers from coal to gas, as well as by insufficient pipeline and storage infrastructure.
Regulators are now extending pricing mechanism reforms, among several other measures, to continue shifting the country toward using more natural gas, which they aim to account for 10 percent of the nation's energy by 2020 and 15 percent by 2030.
The new policy will "promote construction of natural gas production, supply, storage and sale systems, as well as the sustained and healthy development of the industry," China's National Development & Reform Commission, said in a statement on Friday. "The pricing mechanism for residential use will be changed to a benchmark price which is set at the same level as that for non-residential users."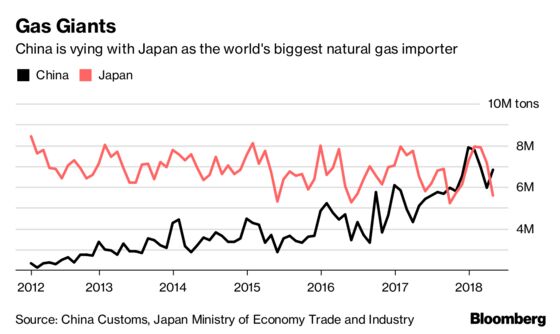 Overall, the city-gate price of gas for residential use may rise as much as 25 percent, according to analysts at SCI International, ICIS China and Daiwa. Volumes affected by the change account for about 15 percent of total domestic consumption, the NDRC said, adding that the change may result in a 0.02 percentage point increase to China's consumer price index.
The policy also allows prices to move above or below the benchmark depending on seasonal demand, the NDRC said. Increases over the benchmark can only happen a year after the June 10 implementation of the policy and is capped at 20 percent, according to the NDRC.
The NDRC called on gas companies to use the new flexibility to raise and lower prices to reflect changes in demand, particularly in winter, when gas is needed for home heating in addition to industrial use, especially in northern provinces. Lower summer and higher winter prices will encourage gas storage companies to increase capacity to profit off the seasonal arbitrage.
China sourced about 40 percent of its natural gas supplies from overseas last year, and domestic prices are insufficient to cover import or production costs, NDRC said. The rates will rise by as much as 0.35 yuan per cubic meter in regions where there's a substantial gap between residential and non-residential prices, with the remaining difference to be made up one year later, the NDRC said.
While the price of pipeline gas is strictly regulated by the government, there is a free-floating market for domestic liquefied natural gas used by long-haul trucks and factories not connected to the country's pipeline grid. Prices for those LNG cargoes -- which are seen as a better reflection of supply and demand as they aren't regulated -- have surged to the highest level since February, according to data from the Shanghai Petroleum & Gas Exchange.