Default Jitters in China's Bond Market Are Crimping Note Sales
(Bloomberg) -- Investors in China's yuan-denominated corporate bonds are getting pickier in the wake of a recent slew of payment failures.
Corporate defaults are piling up in China's onshore bond market as a government crackdown on leverage chokes financing for private-sector companies. At least 14 bonds have missed payments so far this year. Among the six first-time defaulters in 2018, four were listed firms, according to Bloomberg-compiled data.
"Investors are very risk-averse, mostly avoiding issuers with ratings of AA and below," said Gary Zhou, director of fixed income investment at China Securities International's asset management arm in Hong Kong. "People are especially cautious towards private-sector companies and those with refinancing pressure," he said.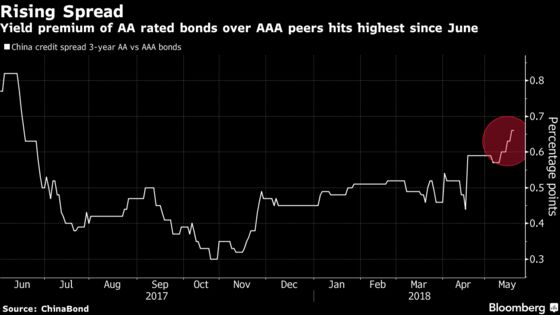 The spread on three-year AA rated notes over AAA peers rose to 66 basis points on Friday, the highest since June 2017. AA rated notes are considered junk score in China.
"A bevy of bond defaults in China recently has curbed demand for notes in the primary market," said Ming Ming, head of fixed-income research at Citic Securities Co. "Beijing Orient doesn't have high ratings and is a publicly listed company, which seems to be where defaults tend to happen lately."
A spokesperson for Beijing Orient said the firm has funding plans to match its development and the downsize of the new bond won't have any impact on the company's liquidity. Three calls to Shenzhen Investment went unanswered.