'Tech-tonic' Shift May Be Taking Shape in China: Taking Stock
(Bloomberg) -- Chinese stocks are doing something they haven't done in a long time -- outperform their counterparts in the U.S.
In the past two weeks through last Friday, the Shanghai Composite surged almost 5% and racked up its longest four-day streak since February. This compares to declines of more than 1% for the benchmark indices in the U.S, or a complete turnaround from what we saw this year prior to this two week span, where the SHCOMP plunged ~23% versus gains of 3.5% in the S&P 500 and almost 8% for the Nasdaq.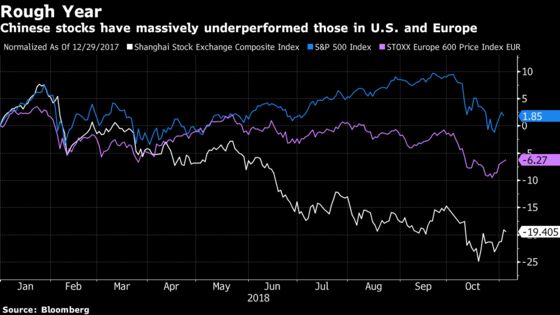 While this is all off of a low base, the bounce has been accompanied by what appears to be the most significant shift in sentiment since the slide in the Chinese market began earlier this year.
There's no better example of this than watching where the money has moved. On Friday, overseas investors bought $2.5 billion of Chinese stocks via trading links with Hong Kong, or more than double the daily record set the day before. This collectively erased all of the net selling that took place in October. Meanwhile, local investors poured $7.3 billion into 255 ETFs tracking Chinese stocks in October, which is almost 20% more than the previous record of $6.1 billion that took place during the 2015 collapse.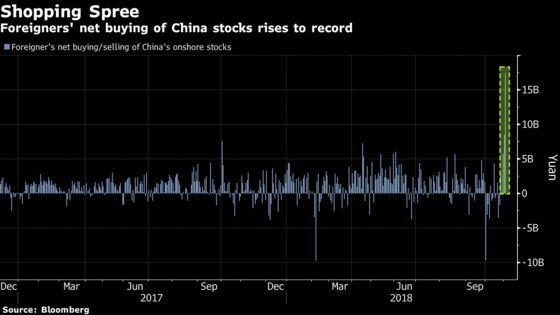 The mood shift can be attributed to 1) recurrent signals that the government is looking to support the country's economy with increased stimulus measures in order to stem the bleeding in the markets, 2) an about-face from Trump about reaching a trade deal at the upcoming G-20 summit, and 3) what just might be the start of an unwind of the whole America First trade, where stocks in the U.S. have outperformed almost every other major global market up until the month of October, when concerns about a growth slowdown and tremors in tech land sent investors scrambling for safe havens.
When stocks and sector rise on ominous news, or don't get punished as much they probably should, that usually means a shift in investor thinking has taken place.
The best gauge of this might be in the Chinese tech sector, where the crowded BATs trade (Baidu, Alibaba, Tencent) has sprung to life after months of heavy selling. Even worse-than-expected earnings, a slashed forecast, and a more cautious growth outlook on Friday from the largest member of the complex, Alibaba, didn't lead to an exodus from investors -- the ADRs initially rose more than 6% after results hit only to end the day lower by a couple of percentage points, which still gave them a 10% gain for the last four days of trading.
The same could be said after Xi's tough talk at the Shanghai trade fair overnight, which was his most high-profile economic address in many months. He denounced "law of the jungle" trade policies and did nothing to suggest that he was raring to meet Trump's demands in light of reports that U.S. officials are being asked to draft terms for a possible trade deal.
And yet, the Shanghai composite didn't plunge. In fact, it hardly gave back any of its recent gains, ending the day down only 0.4%.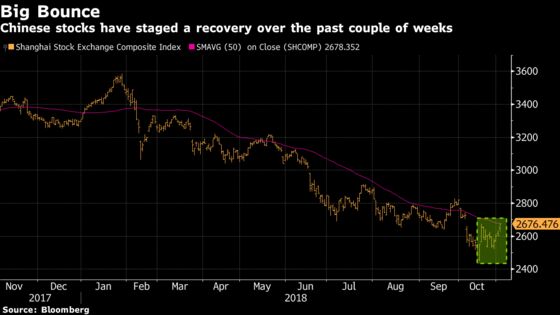 That's a win for the bulls, especially anyone who just allocated more of their portfolio to the Chinese stock market. The iShares China Large-CAP ETF (ticker FXI) will clearly be in focus to see if the trend continues, but for those more ensconced in the tech space, I'd keep an eye on the $1.6 billion KraneShares CSI China Internet Fund (ticker KWEB), which had a three-day uptick streak of ~14% last week. As the chart below shows, the spread of the ETF against the ~$8 billion First Trust Dow Jones Internet Index fund (ticker FDN) has finally started to narrow after more than half a year of widening.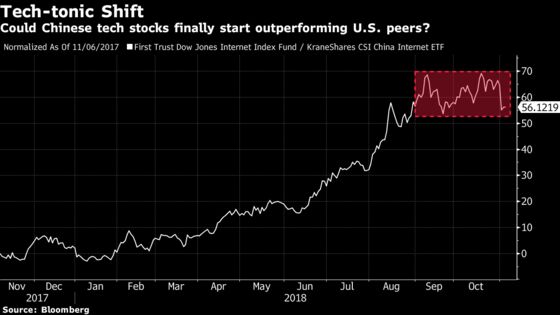 There'll be plenty of skeptics who will predict that this will be a short-lived (dead cat?) bounce that will correct itself soon enough. One of those is JL Warren Capital's Junheng Li, who wrote over the weekend that the broad rally in Chinese stocks (A shares, H shares, and U.S. ADRs) occurred in the absence of any structural catalyst and merely on speculation of a penciled-in meeting between Trump and Xi as well as Beijing's policy shift away from deleveraging.
Li said her firm is likely to stay bearish on Chinese stocks "until we see substantial structural stimuli from Beijing, such as meaningful corporate tax cuts and a broad income tax cut (not just targeting at narrow base of demographics like the latest cut effective on October 1st)." That said, she sees the Trump-Xi summit at the upcoming G-20 as the most important event that the market anticipates this month, adding that "if the standstill were limited to trade issues our intelligence suggests that the Chinese government would be more than happy to accommodate."
Casino stocks after NY Post reports that MGM has hired a bank to explore a tie-up with Caesars, with Wynn Resorts and Malaysia's Genting also potentially interested
Offshore drillers after Diamond Offshore had better-than-expected results on the top and bottom line
Sectors that may move with earnings over the next ~24 hours include online travel (Booking Holdings), auto rental (Avis), lodging (Marriott), apparel (Ralph Lauren), aerial platforms (Manitowoc), aerospace (TransDigm), aggregates (Martin Marietta), fertilizers (Mosaic), lithium (FMC Corp.), titanium dioxide (Tronox), big pharma (Eli Lilly), drug distributors (AmerisourceBergen), dental (Henry Schein), hospitals (Tenet)
Here's some stuff you might have missed since Friday's close:
Warren Buffett bought $12.6 billion of stocks on a net basis in the third quarter, the most in more than four years, and surprised many by spending more than $900 million on share buybacks; Paul Tudor Jones, on CNBC's "Mad Money" Friday, acknowledged that rising rates typically cause bear markets, but sees potential for stocks to revisit highs for now ("We'll probably rally after whenever they finish [tightening]. Then you have to pay attention"); Steve Eisman, of "The Big Short" fame, is shorting two U.K. banks and may short a bunch more if Jeremy Corbyn becomes prime minister ("Now I know my Trotskyites well and I know you don't want to be invested in the U.K. if a Trotskyite is prime minister"); Barron's cover story is about a superfast "hypersonic" missile that could start a new arms race and keep the money flowing into military contractors; the WSJ has a story on 220 Central Park South, "Manhattan's most secretive skyscraper" where a "super-elite clientele" has emerged from billionaire Dan Och to Sting, and another piece about companies like Thasos Group that aim to help traders get ahead of stock moves by using so-called alternative data; the Freddie Mercury biopic "Bohemian Rhapsody" beat expectations to take the top box office slot this weekend over Disney's "The Nutcracker and the Four Realms"; and Michael Thomas did his best Joe Horn impression to put the nail in the coffin on the Rams' perfect season.
Notes From the Sell Side
Morgan Stanley Chief U.S. Equity Strategist Mike Wilson, who has been cautious for months on end, says "most of the price damage is done, for now." He now sees the need for some healing with the "Rolling Bear" turning into a more choppy bear through the end of the year. His stocks screener tilts more toward value cyclicals, specifically favoring names like Caterpillar, State Street, SVB Financial, Baker Hughes, and Continental Resources.
Gordon Haskett's John Inch continues to hammer General Electric, now seeing potential for shares to sink toward $5 a share, which would almost be a 50% plunge from Friday's close. He specifically calls out the sum-of-the-parts thesis that most bullish analysts and investors are hanging their hat on, noting that no one, including the company, has an accurate handle on the magnitude of GE's total and embedded on- and off-balance sheet liabilities, which may ultimately exceed $100 billion.
Piper boosts its rating on Under Armour to an overweight and now has the Street-high price target at $32, citing an underappreciated sales opportunity: "Our view is the favorable industry dynamics, DTC mix benefit & white space internationally against a more soundly run company, will enable Under Armour to be on a path towards M/HSD sales growth over time." Stifel is also positive on UAA this morning after investor meetings last week.
And BofAML upgrades one of the "sicklicals" in American Axle to a neutral as the bad news is "clearly stamped into the stock."
Tick-by-Tick Guide to Today's Actionable Events
Today -- IPO lockup expiry: EVLO, OBNK
7:30am -- D earnings
8:00am -- SYY earnings
8:55am -- GS at BofAML Future of Financials conference
9:45am -- Markit PMI
10:00am -- ISM Non-Manufacturing Index
10:00am -- ABX holders vote on GOLD merger
10:40am -- HAL CEO Jeff Miller on Bloomberg TV
11:00am -- CME special meeting of shareholders
11:00am -- Supreme Court hearing on Virginia uranium mining
1:00pm -- AOS analyst day
4:00pm -- BKNG, RNG earnings
4:01pm -- SBAC earnings
4:05pm -- MYL (roughly), MTW (roughly), ELF, ANDE, ACHC earnings
4:15pm -- CAR, THC earnings
4:20pm -- OXY earnings (roughly)
4:20pm -- Green Growth Brands CEO Peter Horvath on Bloomberg TV
4:30pm -- MOS, FMC earnings
5:00pm -- MAR, VVV, TROX (roughly) earnings
8:15pm -- Titans at Cowboys (-4.5)
11:00pm -- Toyota earnings