'Panic Buying' Drives China-Focused ETF's Biggest Gain Since '09
(Bloomberg) -- A $3 billion exchange-traded fund tracking Chinese equities surged the most in a decade after short sellers likely got scorched by a rally in the nation's shares.
BlackRock's iShares China Large-Cap ETF soared 9.5%, the most since March 2009, after China's Securities Times ran a front-page editorial on Monday that said that fostering a "healthy" bull market after the pandemic is now more important to the economy than ever. That boosted the fund, known by its ticker FXI, to the highest since April 2019.
The rip higher suggests "panic buying" after bullish positions on emerging-market equities dwindled to 2016 levels, according to Susquehanna Financial Group LLP. Monday's rally pushed FXI's 30-day implied volatility above its three-month implied volatility, inverting its term structure by the most since late April. It's unusual to see near-term volatility jump more than further-out measures during a rally, said Susquehanna's Chris Murphy.
"When near-term volatility is moving much more than medium term, it's a sign of panic/stress/volatility moving to the near term," Murphy, the firm's co-head of derivatives strategy, said by email. "We typically see it happen during sell-offs, not rallies like today."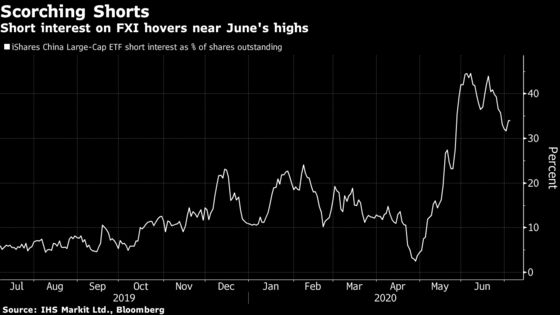 The build-up in bearish bets on FXI suggest a short squeeze is at play. Short interest as a percentage of shares outstanding is roughly 34%, according to data from IHS Markit Ltd., after climbing to as high as 44.5% in early June. That's a dramatic turnaround from late April, when short-interest was as low as 2.5%.
FXI wasn't the only China-centric ETF to rally on Monday. The $5.5 billion iShares MSCI China ETF (MCHI), the largest Chinese equity ETF, jumped 7.3% in its biggest move since October 2011. The $1.4 billion Xtrackers Harvest CSI 300 China A-Shares ETF (ASHR) rocketed more than 11% for its largest leap since September 2015.