'Caution' Is Traders' Verdict as Asia Stocks Fight for Direction
(Bloomberg) -- After a week that sent Asian shares into a bear market, it was skepticism that reigned Monday.
And traders should be forgiven for not knowing what to do: the market has become so fickle that gains of more than 1 percent can turn into losses in no time -- that's just what happened Monday to the Topix index. Same with the MSCI Asia Pacific Index, which climbed as much as 0.6 percent in early trading, boosted by the Japanese gauge. It was down 0.2 percent less than an hour after, and later on fell as much as 0.3 percent after a brief rebound.
The culprit of course was China: as soon as the market opened, the Shanghai Composite Index fell in red waters and closed down more than 2 percent, while better-than-expected results from HSBC Holdings Plc helped Hong Kong's Hang Seng Index erase its drop. By 4:56 p.m. in Singapore, the MSCI Asia Pacific Index was down 0.2 percent, with the Topix closing 0.4 percent lower and South Korea's Kospi index finishing down 1.5 percent at its lowest level since December 2016.
Peaking earnings growth and a slowing economy have become constant sources of worries, and Monday's 10 percent plunge -- the daily limit -- in Chinese liquor maker Kweichow Moutai Co. only added fuel to the fire, raising concerns about the consumer outlook in the world's second-biggest economy. Automaker Great Wall Motor Co. lost as much as 9.7 percent in Hong Kong trading as analysts slashed their ratings after it posted disappointing results.
"Investors will just stay cautious for the near future," said Banny Lam, the head of research at CEB International Investment Corp.
His points of focus: the earnings season and U.S. stocks -- Facebook Inc. and Apple Inc. report this week -- as well as the strengthening in the U.S. dollar, which has already been a major drag for emerging markets, including those in Asia. In China, the yuan weakened to a decade low on Friday, approaching a key support level of 7 per U.S. dollar.
The result? The MSCI Asia Pacific Index is heading for its biggest monthly slump since the height of the financial crisis a decade ago, with an 11 percent plunge. Globally, shares have lost almost $8 trillion in market value in October.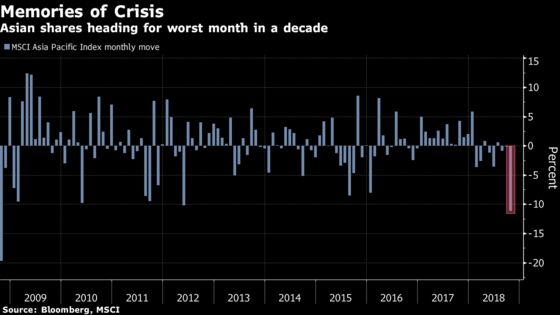 So where's the good news? Most Southeast Asian markets were up on Monday. There was also Sri Lanka's Colombo All-Share Index, which rallied as investors focused on the positives expected out of political changes. And all the way across the continent in Japan, a Tokyo-listed Brazil ETF soared after Jair Bolsonaro's landslide victory.
Here are some notable moves in Asia:
Kweichow Moutai Falls 10 Percent as CICC Cuts Targets on Supply
Great Wall Slumps 9.7% as Analysts Slash Ratings After 3Q Miss
Hitachi Chemical 3 Plunges After Report of Inspection Problems
Pendal Slumps to Two-Year Low as Rating Cut at Credit Suisse
ICICI Bank Gains After Swinging to Profit on Lower Provisions
And a recap of the weekend news:
Japan's Topix index down 0.4%; Nikkei 225 down 0.2%
Hong Kong's Hang Seng Index up 0.4%; Hang Seng China Enterprises down 0.5%; Shanghai Composite down 2.2%
Taiwan's Taiex index up 0.3%
South Korea's Kospi index down 1.5%; Kospi 200 down 1%
Australia's S&P/ASX 200 up 1.1%; New Zealand's S&P/NZX 50 up 0.6%
India's S&P BSE Sensex Index up 1.3%; NSE Nifty 50 up 1.3%
Singapore's Straits Times Index up 0.4%; Malaysia's KLCI little changed; Philippine Stock Exchange up 0.6%; Jakarta Composite down 0.5%; Thailand's SET up 0.5%; Vietnam's VN Index down 1.3%