$31 Billion Record Can't Help Asian Stocks as Traders Hit Snooze
(Bloomberg) -- Monday's meager volume across Asian stock markets means one thing: everyone's waiting for solid news to trade on before getting overly excited one way or another.
Most benchmarks in the region posted moves between 0.1 percent and 0.8 percent in either direction. A gauge tracking volatility in Japan's Nikkei 225 Stock Average dropped for a fifth straight day.
Even a $31 billion record sales figure from Alibaba Group's Singles' Day didn't give stocks a big lift (consumer shares in the MSCI Asia Pacific Index fell). Bloomberg Opinion columnist Tim Culpan said that savvy investors would do well not to get caught up in the fluff and hype of the famous sales event.
The one notable exception was China: The Shanghai Composite Index erased earlier losses to climb for the first time in six days as Premier Li Keqiang promised more support for the private sector over the weekend. Its ChiNext gauge of small-cap and technology stocks advanced 3.5 percent.
But apart from that, what solid news are investors waiting for? Corporate profit and economic growth outlooks are both on top of their minds. Everyone's going to be watching Asian tech behemoth Tencent Holdings (the beaten down T in the BAT complex), which is slated to report its third-quarter results this week. Analysts have trimmed their estimates without mercy -- Goldman Sachs cut its target price by 17 percent, after CICC lowered its projection by 16 percent last week, data compiled by Bloomberg show.
There's also U.S. CPI numbers on Wednesday, which could move the greenback and in turn impact markets in this region. The docket this week also includes a plethora of speeches by Federal Reserve officials and retail sales numbers that will provide an important glimpse into the tone of economic activity, inflation and fedspeak through the end of the year.
Of course, if there's any new information, the trade war between China and the U.S. will also give investors a reason to make decisions. Watch the various summits taking place in Asia this week for added news.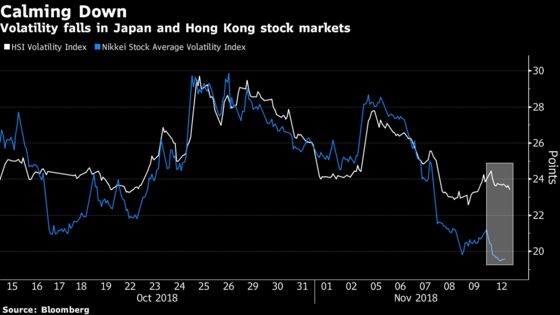 There's one piece of firm news: oil rose for the first time in 11 sessions on the possibility that OPEC and its allies will cut output next year and after Saudi Arabia said it will reduce sales in December. That provided a bit of a boost to U.S. stock-index futures, tough energy shares in Asia slipped for a second day.
Quite a bit happened in the 66 hours since Hong Kong markets closed last week:
The S&P 500 Index fell 0.9 percent on Friday as investors hit the sell button on tech stocks. That came back a little as Nasdaq 100 Index futures climbed as much as 1 percent Monday.
Alibaba set a Singles' Day record with $31 billion in sales, which may indicate that consumer sentiment remains strong despite trade tensions.
China's central bank pledged late Friday more action to tackle the worsening global outlook.
Thailand's Democrat Party retained Abhisit Vejjajiva, a former prime minister, as its leader ahead of a general election expected in 2019 that would end more than four years of military rule.
Sri Lanka's president dissolved parliament and called for a snap general election.
South Korea's new finance minister said the economic difficulties that have beset the country this year are unlikely to ease much in 2019.
Some notable moves in the region:
Sunny Optical Tops HSI Gains; New Items Boost Shipments: Citi
Japan's Mitsui Mining Slumps Most in 44 Years After Forecast Cut
Taiyo Yuden Slides as Analysts Question How Much Steam is Left
Celltrion Drops After 3Q Earnings Miss Est., Brokerages Cut PTs
Mesoblast Plunges 29% After Patient Study Fails to Meet Endpoint
Japan's Topix index little changed; Nikkei 225 little changed
Hong Kong's Hang Seng Index up 0.1%; Hang Seng China Enterprises little changed; Shanghai Composite up 1.2%
Taiwan's Taiex index little changed
South Korea's Kospi index down 0.3%; Kospi 200 little changed
Australia's S&P/ASX 200 up 0.3%; New Zealand's S&P/NZX 50 up 0.3%
India's S&P BSE Sensex Index down 0.8%; NSE Nifty 50 down 0.9%
Singapore's Straits Times Index down 0.3%; Malaysia's KLCI down 0.7%; Philippine Stock Exchange down 0.6%; Jakarta Composite down 1.7%; Thailand's SET down 0.8%; Vietnam's VN Index up 0.4%