Nightlife Guru Scott Sartiano Envisions a World After Nightclubs
(Bloomberg Businessweek) -- "Don't mention the elephant in the room," Scott Sartiano says on a Friday in March, standing on the carpentry-littered main floor of Zero Bond, his new private members' club.
The pachyderm in question is a large, stainless-steel statue, which an artist friend just dropped off. Its future seems uncertain. Although not without panache, it's maybe at odds with the muted grays and greens of the space taking shape around it.
"I call it 'New York dark,' " Sartiano, 45, says of the color scheme. He's relaxing in a velvet armchair, wearing suede Loro Piana loafers and a black John Varvatos jacket covered in white hair from the three rescue dogs who share his Flatiron District apartment with his wife, Allie, and their 2-year-old son.
As soon as the hammering stops (and city quarantining lifts), Sartiano aims for Zero Bond to be a refuge where an invitation-only downtown elite can come to get away from the hoi polloi.
For this select smattering of artistic types, pro athletes, and figures from the business and entertainment worlds, there will be places to eat and hold discreet meetings. A bar offers escape, and there's a roof space to soak up the sun.
The other, metaphorical elephant in the room is Soho House. Founded in London in 1995, it now has more than two dozen locations in nine countries. Its success has fueled a boom in private members' clubs, which were once associated with fusty patricians but are now modern hubs for young, affluent, and creative professionals.
Is Zero Bond, which is named after the address of the multi-tenant building it occupies, merely an imitator?
"Soho House is an incredible business, but the audience I'm going for wants something different," Sartiano says. "My place is a bit more community-based, a smaller audience."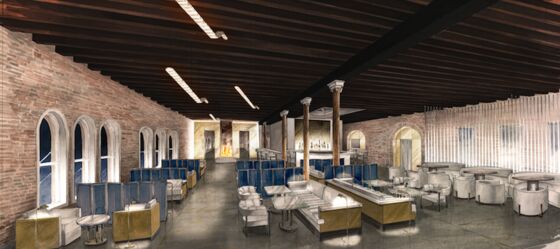 Zero Bond members will have access to 20,000 square feet over two floors and the roof deck, and dining options will include a grill room, an omakase bar, and a cafe. Sartiano is especially proud of the "bump outs" on the sushi counter, designed so groups of three can talk with one another without craning their necks. "I heard there was an episode of Curb Your Enthusiasm about how it's so hard to talk at sushi bars," he says.
There will also be a screening room, as well as a "library"—a long room lined with glass shelves like magazine racks, showcasing picture books from publisher Assouline, which is "curating" the space. Sartiano says cultural programming may include events such as kids' games in the mornings, wine tastings and stand-up comedy in the evenings, and an annual Oscars viewing party.
What makes his model unique, he says, will be the small but racially and professionally varied community, established by the membership committee, who'll want to meet one another. "I'm doing a New York version of the London social club," Sartiano says. "And New York is about diversity."
"When people go out and have a great time, they don't say it's 'because George Clooney was 50 feet away from me,' " he adds. "Usually, it's 'because I met people I would have never met before, and they were so cool, and now we're new friends.' That is what I aspire this place to be."
His partners include fitness behemoth Equinox; Greg O'Hara, the founder and senior managing director of private equity firm Certares Management LLC; Jamie Reuben, a British financier; and Naguib Sawiris, an Egyptian billionaire. Sartiano is confident his vision will succeed, even amid a surge of interest in the New York private club market by competitors. These include the Norwood Club, which opened in Chelsea in 2007, and newcomers such as London-based businessman Robin Birley, who's planning a supper club for the Upper East Side.
Sartiano estimates that at first the club will accept 1,000 to 2,000 members. Annual dues are $3,000, plus a $500 initiation fee. (By comparison: Soho House costs from $1,100 to $3,400 annually, depending on how many clubs in the network you want to access; a yearly membership to all 16 locations of the Wing, a club for professional women, is $2,700.)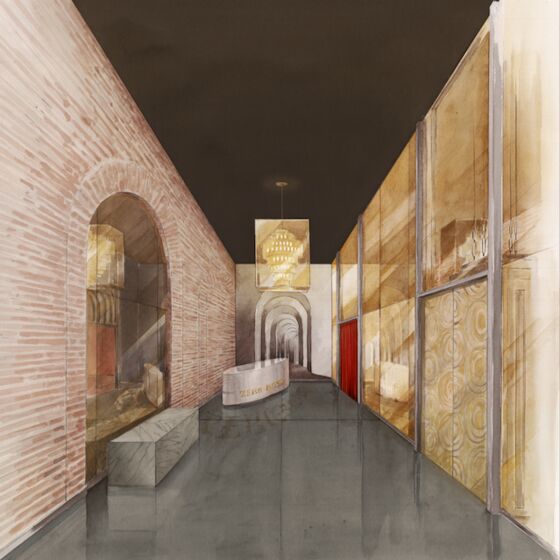 Founding members include former NBA power forward David Lee and his wife, Caroline Wozniacki, a world No. 1 tennis player who retired in January.
"For our group of friends now, the idea of going to a nightclub until 5 in the morning isn't what we're looking to do," Lee said over the phone from Zanzibar, where he and his family were shooting an adventure show for the Discovery Channel. "This kind of fills a void for me, because my idea of a perfect evening is to go grab a good dinner with friends, and to enjoy a great atmosphere and have a bottle of wine. And get out of there by 12:30."
The real draw, Lee said, is that "it's an exclusive thing to become a member of. It's not about how much money you have, it's about the coolness factor."
Sartiano certainly knows about cool. A lithe former tennis instructor who moved to New York from North Carolina to attend Columbia in 1992, he drifted into club promoting and discovered he had a talent for it. After working his way up with the venues Life and Spa, he and then-business partner Richie Akiva had their first hit with Butter, a restaurant on Lafayette Street. Butter defined celebrity scene-making in the early 2000s, earned a reputation for its cocaine-fueled clientele, and brought Sartiano high-profile pals and girlfriends. (A 2006 article in the New York Post described him as "the former man snack" of Lindsay Lohan, Ashlee Simpson, and Ashley Olsen.)
In 2008, with two other partners, Sartiano and Akiva opened 1Oak in the Meatpacking District. The name, meaning "one of a kind," was a misnomer: The brand expanded to include outposts in Dubai, Las Vegas, Mexico City, Tokyo, and Aspen, Colo. By 2018, Sartiano was a celebrity, at least in the New York gossip columns, which delighted in chronicling his romantic life. And the tabloids pounced when he fell out with Akiva that year and sued him for $15 million, alleging Akiva misled him about their business's finances. (Speaking to reporters at the time, a spokesman for Akiva called the claims "baseless" and "defamatory." The case is ongoing.)
In 2017, with partners not including Akiva, Sartiano opened a fast-casual grain bowl restaurant called Broken Coconut. It had a menu heavy on vegan yogurt and avocado toast.
The first of its three locations is near Zero Bond, as well as a brick-and-mortar Goop. Gigi Hadid moved into a $4 million pad at 10 Bond St. in 2016; Kristen Stewart bought a $5.6 million loft nearby the following year.
But the 19th century club building, whose cute Bond Street address is essentially the drag name of 670 Broadway, was there before the neighborhood's newly cool designation. Sartiano doesn't own the five-story, 70,000-square-foot building but says renovations for the floors he's leasing cost "in the ballpark of $15 million."
In 1874 the red-brick redoubt housed a Brooks Brothers store and garment factory. Zac Posen, the label's current creative director, who's also a founding club member, is designing staff uniforms in a nod to that history.
Another partnership is with Baccarat, which has provided crystal light fixtures, including a $95,000 chandelier, and will supply glassware for a private room for founding members. Jim Shreve, president and chief executive officer of Baccarat North America, says Zero Bond aligns with his brand's identity of aspirational but accessible luxury.
"You can go to Zero Bond, you're going to be drinking great whiskey in a Baccarat glass, and once you touch it, you're going to be like, 'Oh my god, these glasses are amazing, I need these for my house,'" he says. "Why aren't we taking care of ourselves in our home with nice plates and nice glassware? Why aren't we having orange juice out of Baccarat, yet we're carrying our Chanel bag to the gym?"
Taken together, the neighborhood paints a cohesive picture of today's wealthy urban creatives: vegan yogurt, boutique fitness, orange juice in Baccarat glasses, and memberships to various private communities for networking and socializing.
"It used to be it took a year or 18 months to hear about what the cool spot was in New York, but now, with social media, you don't have that luxury," says Sartiano, who's banned social posting from the club and will allow cellphone use only in certain areas.
"So how do you get that back? You have to say, 'I'm putting up a gate, I'm building a wall, and there's criteria to get inside.' "