Zelle Has Turned Dollar-Starved Venezuela Into a Cashless Test Lab
(Bloomberg Businessweek) -- When Federico Suárez made an overnight trip to Valencia last month to visit his boyfriend, the 24-year-old Caracas-based lawyer was in the mood to splurge. Over the course of a weekend, the couple enjoyed an empanada breakfast, shopped for imported cheeses and pasta, and then went out for a romantic sushi dinner.
All were purchased using Zelle, the money transfer service owned by a group of seven of the largest U.S. banks. "I can pay for things everywhere. The only problem is, I buy more than I should," says Suárez.
PayPal and Venmo may have achieved the status of verbs in the U.S., but in Venezuela, it's Zelle—or "Zell-ey"—that's on everyone's lips. Across Caracas, homemade signs that read Aceptamos Zelle (We accept Zelle) dangle in store windows and off produce stands. Computer printouts of the purple company logo are taped to cash registers in supermarkets, some of which have dedicated lines for customers paying with the app. The improvised signage is a hint that Venezuelans' use of Zelle to provide relief from a rapidly depreciating currency and runaway inflation, while not prohibited, could certainly be described as off-label.
It works for impulse buys, like a candy bar or a new pair of sneakers, as well as for more essential needs. "Without Zelle, we would have fewer patients," says Dr. Antonio Farfán, a surgeon at a private clinic in Caracas. "I know it's meant for occasional payments, but here it's everything."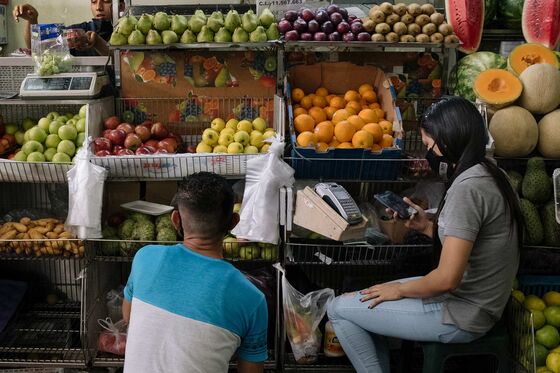 Zelle allows customers of its member banks to send money to friends and merchants, often at no charge, via a mobile phone app. Its owner, Early Warning Services, based in Scottsdale, Ariz., has never promoted it abroad. It's hard to conceive its owners, which include JPMorgan Chase & Co. and Bank of America Corp., would have picked as a test market a country ruled by a vehemently anticapitalist government and whose economy is in shambles.
Use of mobile payment apps is surging globally amid the coronavirus outbreak, spurred by lockdowns and shoppers' concerns about becoming infected through the use of cash or credit card readers. Zelle, a leader in the U.S. peer-to-peer payments market, logged 842 million transactions totaling $217 billion through September, a 64% increase from a year ago. Early Warning Services declined to make executives available to be interviewed for this story. Ecoanalítica, a local consulting firm, estimates that 17% of transactions at retail establishments in Caracas go through the app and that other Venezuelan cities are seeing similar usage levels. The actual figure may be larger, considering the data do not include smaller shops.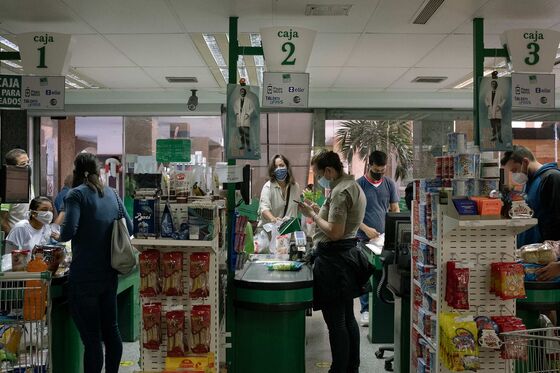 Venezuelans' embrace of digital money is less a matter of choice than of necessity. Their own currency, the bolívar, is now about as valuable as Monopoly money, a casualty of mismanagement by Nicolás Maduro's socialist government, which since taking office in 2013 has presided over seven consecutive years of economic contraction. Gross domestic product is one-fifth what it was when his tenure began, according to estimates by the International Monetary Fund, while inflation, as measured by a Bloomberg index pegged to the price of a café con leche, is running above 4,000%. The largest currency note, the 50,000-bolívar bill, is equivalent to less than a dime.
A disastrous 15-year experiment with capital controls gave rise to a thriving black market for dollars. Maduro's government initially turned a blind eye when corner stores, restaurants, and hair salons began accepting greenbacks as tender. Then last year the president publicly endorsed use of the gringo's money, partly in the hope that it would help tame inflation and help stabilize a crumbling economy. "I don't see it as a bad thing … this process that they call 'dollarization,' " he said during a November 2019 TV broadcast, adding, "thank God it exists!" Ecoanalítica estimates that more than 60% of all transactions in Venezuela are now in dollars.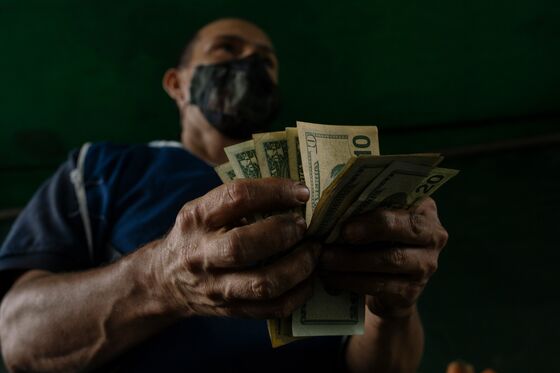 Several countries have officially adopted the U.S. dollar as their currency, including Ecuador and Turks and Caicos Islands. Venezuela, on the other hand, is an example of what economists call spontaneous dollarization. "The government doesn't tell you, many times it's even illegal," says Steve Hanke, a professor of applied economics at Johns Hopkins University and an expert on hyperinflation. "It happens big time if you have sanctions or occupying armies."
The Trump administration has made no secret of its desire to enable regime change in Venezuela, but it's refrained from dispatching U.S. troops to the South American country. Instead it's targeted Maduro, along with approximately 140 current and former government officials and entities, with sanctions.
Greenbacks are also in demand on the streets of Havana and Tehran, but in those places sanctions effectively cap the availability of dollars to what can be brought in by tourists or visiting expats. Unlike in those other pariah states, digital dollarization via services such as Zelle has been able to take off in Venezuela because its citizens enjoy continued access to the U.S. financial system, says Darshak Dholakia, a partner at Dechert LLP in Washington, D.C., who advises companies on sanctions compliance. "Venezuela is in a very unique position of being the only country currently in which the government is subject to comprehensive sanctions but private people are not," he says.
About 8% of adult Venezuelans have a foreign bank account or access to an e-wallet, according to Caracas pollster Datanálisis. But that number is magnified by the almost 5 million who've fled their country's crisis, with hundreds of thousands settling in the U.S.
That diaspora is a vital link for Venezuelan users of Zelle like Gerardo Zambrano, who lives in the Caracas slum of Petare. The 31-year-old graphic designer has his paychecks deposited into a friend's account in Los Angeles and then texts him to initiate a transfer every time he wants to zap someone money. It's not always seamless because of the four-hour time difference between the two cities. In August, when his father woke up covered in hives, it took Zambrano hours to rouse his buddy so he could buy medicine. "I've since learned that he never answers before noon," he says.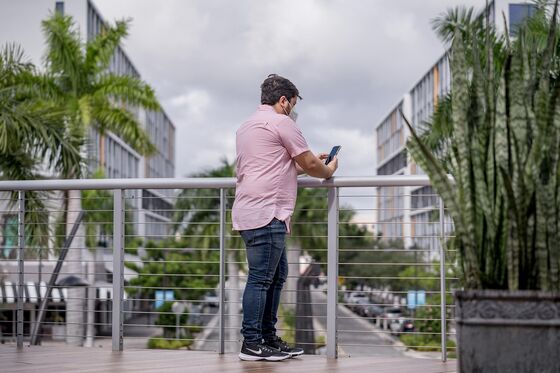 Javier, a 32-year-old journalist living in Miami, who withheld his surname out of fear of having his account suspended, uses Zelle to pay for groceries, doctor's visits, and home repairs for his parents in Caracas. "It makes our lives so much easier," says Javier's father, Luis, a 72-year-old retired mechanical engineer. "But my son takes care of everything, because we don't know how it works."
Venezuela's retailers have their own workarounds. To keep checkout lines moving, supermarkets are equipped with dedicated staff to compare screen captures of Zelle payments with email receipts. Vanessa Mora, who works as a cashier at a high-end pet shop in Caracas, is required to verify that a payment via Zelle has gone through before a shopper can walk out with the merchandise. If she doesn't, she's on the hook for it. An impatient customer recently stormed off with an $83 bag of dog food when the staff couldn't retrieve the emailed receipt and weren't able to reach the store's owner, who lives in Miami, to confirm the money had landed in the account. "He called us a bunch of incapable idiots, but I was scared," says Mora, whose monthly salary is less than half the price of the kibble.
Most of the 731 U.S. banks on Zelle's network haven't put up barriers to Venezuelans signing up for bank accounts, provided they aren't on sanctions lists and used authentic documents and mailing addresses when they signed up. In a statement, Early Warning said, "Consumers can only enroll in the Zelle Network using a U.S. mobile number or email address associated with a U.S. based account." The U.S. Treasury Department declined to comment, but a senior official, speaking on the condition of anonymity, says transfers between two U.S. account holders wouldn't violate sanctions.
Still, some banks are getting cagey. In June, reports that Wells Fargo & Co. had blocked access to Zelle for some Venezuelans ignited a panic on Twitter.
Alexandra, a 35-year-old Caracas resident who withheld her last name for fear of being kicked off the service, says Wells Fargo abruptly suspended her access to Zelle this summer for four months, leaving the public-relations professional scrambling for ways to collect her salary and pay for everything from groceries to her children's schooling. Now she uses Zelle only to buy dollars from a trusted black-market money changer out of fear she might accidentally send money to someone connected to a sanctioned official. "Imagine, how do I travel to the U.S. to unlock an account in a pandemic?" she says.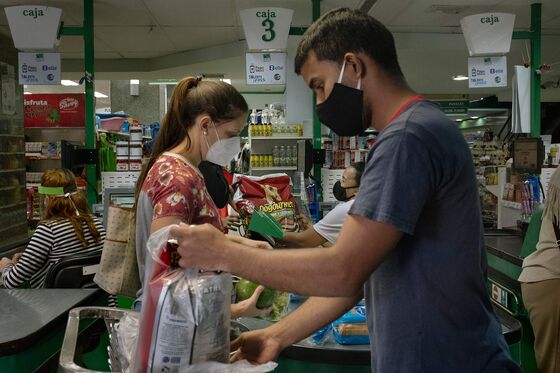 In a statement, Wells Fargo said it removes a customer's access if it identifies usage "that is inconsistent with the intended use of these products and services." Banks deploy sophisticated software to monitor for evidence of activities that might run afoul of U.S. laws, such as money laundering or facilitating payments to individuals whose names appear on government-compiled lists of terrorists and drug traffickers. (In March the U.S. Department of Justice charged Maduro and 14 current and former officials with corruption and drug running.) It's possible that Wells Fargo's systems flagged some transactions on accounts owned by Venezuelans as suspicious, triggering the cutoffs, says Richard Crone, head of payments consultancy Crone Consulting LLC.
As a precaution, many Venezuelans now limit their Zelle use. The wealthy are following the lead of friends and family stateside and turning to Venmo and PayPal. The market also has attracted some lesser-known names in the digital payments arena. Rubén Galindo, a 29-year-old Mexican and self-described freedom fighter, co-founded the e-wallet service Airtm in 2015. The app serves, in his words, as an "over-the-counter dollar market." The company publishes its own exchange rates and allows users, or "agents," to execute currency trades between their own bank accounts.
In 2018, Galindo says he received a tip that Venezuela's intelligence police were planning to detain his local staff, so he spirited the 25-person crew over the border into Colombia and then to Mexico, where the company is headquartered. "They shut down one, or they imprison one, or whatever. We can add 10 more," says Galindo, on a video call from Mexico City. Airtm has customers throughout Latin America, he says, but much of its business is in Venezuela, where it moves about $11 million a week.
Airtm was thrust into the limelight in August, when Juan Guaidó, head of the opposition-led National Assembly, whom the Trump administration and almost 60 other governments have recognized as Venezuela's rightful leader, tapped the service to execute the transfer of almost $19 million to health-care workers on the front lines of the country's coronavirus battle. The funds were supplied by the U.S. Treasury's Office of Foreign Assets Control (OFAC) from frozen U.S. accounts belonging to Venezuela's central bank.
Galindo says he flew to Miami in March to work with Guaidó's economic team on the OFAC-approved operation, dubbed Health Heroes, to send more than 62,000 pandemic responders three monthly payments of $100 each. When Maduro got wind of the plan, he ordered Airtm's IP address blocked. But the money began trickling in by September with the aid of virtual private networks, or VPNs, that can be used to log onto restricted websites. Galindo says about 60% of the funds have been disbursed. "We were built for this, for exactly this. We're not going to leave Venezuela anytime soon," he says.
Violeta Blanco, a nurse at a children's hospital in Valencia, says it took her many attempts to transfer the funds from Airtm to the bank account of a friend in Panama who would see she got dollar bills. Blanco and her colleagues were up until 3 a.m. some nights, trying to figure out the mechanics of the service while navigating blackouts and dropped internet connections. "We had no idea what a VPN was, nor a e-wallet," she says.