Tech's New Executive Perk: Working From Home Forever
(Bloomberg Businessweek) -- When Cathy Polinsky was the chief technology officer at online clothing company Stitch Fix Inc. in San Francisco, her friend Dan Debow would often bug her about switching jobs. Debow, a vice president at e-commerce platform Shopify Inc., had long tried to persuade her to come work with him.
But Polinsky, 43, had family commitments keeping her in the Bay Area, so she always said no to moving to live near Shopify's headquarters in Ottawa. Then, in May, Shopify went "digital by default," letting all 7,000 employees work from anywhere indefinitely. "Dan told me about Shopify's new initiative late last summer, and that's what really kicked off the conversation," Polinsky says. In January she joined Shopify as vice president for engineering, working from her home in California. One of her first steps was launching a recruiting drive to hire more than 2,000 engineers in 2021. They'll all be able to work from home permanently, too.
Before the Covid-19 pandemic shut offices around the world, tech giants and startups would compete to hire executives like Polinsky and their teams by offering perks including free gourmet food, pingpong tables, and on-site doctors at gleaming Silicon Valley campuses. Now the battle for talent is going fully remote, with many companies granting top candidates permission to avoid the office altogether. Executive searches in the industry often don't even mention the location of company headquarters, and some explicitly offer full-time remote work.
One typical listing, sent around by headhunter Richard Kolodny for an e-commerce company seeking a chief legal officer, reads: "TOP COMPENSATION PACKAGE. This position can be FULL TIME REMOTE even after the pandemic ends."
Silicon Valley has long been at the vanguard of changes in work habits—from open offices to online chats. Its shift to remote work, too, may outlast the coronavirus. According to tech executives and recruiters, companies that still require leaders to be at headquarters risk looking sluggish and old-fashioned, while ones offering remote work have a bigger, more diverse talent pool to tap. "Not one of my clients requires an HQ-based executive anymore," says Andy Price, founder of tech recruiter Artisanal Talent Group. "If they do, I won't take the project, because that means the company is too stupid to see the handwriting on the wall. Covid unleashed the beast, and we're not going back."
Artisanal, whose clients include Databricks, Snowflake, and Splunk, handled about 100 executive searches in 2020 for more than 50 companies. None of them required candidates to be at headquarters. Prior to the pandemic, at least 90% of Artisanal's clients wanted new executives to be at or near their main campus, according to Price, who called in for the interview from a home office in Cabo San Lucas, Mexico.
Splunk Inc., a provider of data analysis software with a market cap of $23 billion, used to woo talent to its San Francisco headquarters with such features as game rooms and kombucha on tap. It dropped the word "headquarters" from its jobs listings altogether in 2020. The impetus was the pandemic, but the company quickly recognized the potential benefits of going remote, including access to workers outside the Valley. "At this point, we have the majority of our executive team in dispersed locations, not in the San Francisco Bay Area," says Chief Executive Officer Doug Merritt. "I moved from Northern California to Austin, Texas, over the summer and plan to be there indefinitely."
The shift is even happening within software engineering, the heart of the tech industry, and traditionally an office-centric profession. Take Jonathan Roes, an engineering leader who spent about seven years helping run Salesforce.com Inc.'s Heroku platform. Last year, he was recruited for two different jobs. The first was with Google as an engineering manager at its Sunnyvale, Calif., campus. Roes, who is 34 and lives in Charlotte with his wife and 7-year-old daughter, asked if he could work remotely rather than uproot his family. The Google hiring manager told him that would be "extremely difficult" and would require a vice president or higher to grant a rare special exception. A Google spokeswoman declined to comment.
The other job, a VP of engineering role at startup Streamlit Inc., offered the option to work from home indefinitely. Even though Streamlit paid less, Roes took the job. "The requirement to move was a big part of my decision," he says. "There are the laggards and the cutting-edge companies in tech and in the approach to work."
Streamlit co-founder Adrien Treuille, a former Googler himself, used to believe in congregating in an office. "I was a happy Silicon Valley guy," he says. But about a year after his company went fully remote during the pandemic, he has no regrets. He credits Streamlit's flexible approach with snatching Roes from the jaws of Google. "We wouldn't have found him otherwise, if we'd limited the search geographically," Treuille says. "Remote is a killer perk. It's not going to go back to normal. It works too well, and there's too much good talent out there."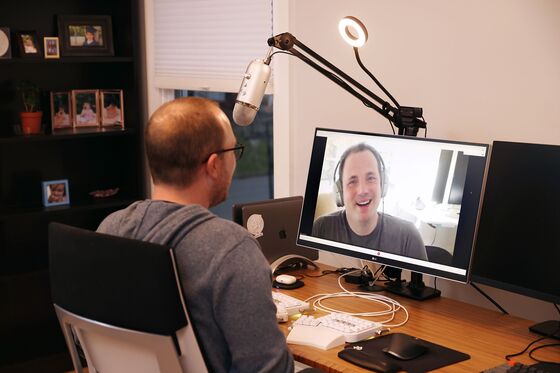 In addition to the hiring benefits of being digital-first, Treuille says it's made Streamlit more efficient. "The whole company is a computer program now," he says. For example, before Covid, employees would get coffee with colleagues in the office to share ideas, but it happened randomly. Now, Treuille says, Streamlit has a software bot that regularly suggests staff reach out to co-workers.
Not everyone is enthusiastic about the end of the office. Michael Morell, co-founder of Riviera Partners, a top recruiter of engineering leaders in the Valley, expects executives to once again coalesce around their companies' "center of influence" when vaccinations are widespread and CEOs return to headquarters regularly.
Having an engineering manager on the East Coast of the U.S. when the rest of the team is in another time zone presents real challenges, according to Morell, who thinks product development teams do better brainstorming in person. "When everyone is Zooming, that's fine," he says. But "when everyone on the West Coast is having in-person meetings around the water cooler and the head of the team is on the East Coast, I expect that won't last. The leaders need to be where the people are, and vice versa."
Bosses like Treuille and Polinsky are trying to address these challenges. Treuille has promised executives and other employees they will get the same face time with the startup's leaders whether they're at the office in San Francisco or in Kentucky. And when he sets up meetings, he asks himself if the time favors the Bay Area, where he lives, over other locations, and adjusts accordingly.
Polinsky says she was concerned about the distance before joining Shopify. But she saw other executives at the company thriving from far beyond Ottawa, including a VP for product in New York City and a managing director in Vancouver. "That's the evidence I needed," she says. Plus, such tools as GitHub, Slack, and Zoom have made software engineering from home easier in recent years. GitHub provides a central place online where colleagues thousands of miles apart can share code and suggest changes in real time, as if they were standing around the same desk, Polinsky says.
If the remote-work trend holds, it could undermine a storied part of Valley culture. Before the pandemic, the assumption was that to make it in tech you had to be in the Bay Area, living and working near everyone else who knew how to run a technology company. "That's just not true anymore," Treuille says. "There's no going back at this point. It just works."
 
Read more: What Happens When the 1% Go Remote