A Lot of Us Are Back in the Office, But These Folks Are Staying Home
(Bloomberg Businessweek) -- In July, 13% of the employed Americans surveyed for the government's monthly jobs report responded "yes" to the question "Did you telework or work at home for pay because of the coronavirus pandemic?" That's down from 35% in May 2020, when the question was first asked.
Both then and now, those with white-collar jobs were more likely to work from home than others. But one group stands out: the 5.8 million people in what the Bureau of Labor Statistics calls computer and mathematical occupations, of whom 49% were still working remotely because of the pandemic in July, even as only 25% of those in other non-health-care management and professional occupations (my proxy for white-collar workers) were.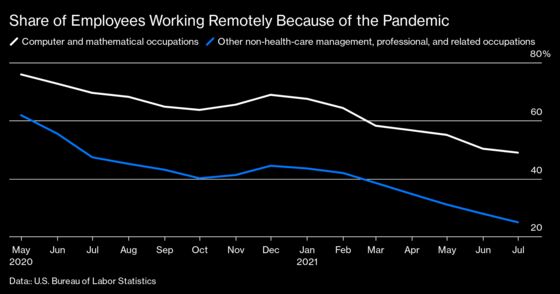 This presumably doesn't include workers who were already remote before Covid-19, who probably account for an additional 10% or more of the computer-math total (almost 8% of those in management, business, science, and arts occupations reported working mostly at home in the Census Bureau's 2019 American Community Survey), or many of those who've been hired remotely since. The computer and mathematical occupations, the biggest of which are software developers and testers, user support specialists, and systems analysts, are thus currently majority-remote.
"These are jobs where labor was already pretty scarce pre-pandemic," says Adam Ozimek, chief economist at tech-talent marketplace Upwork Inc., giving workers a lot of leverage over work-from-home decisions. They're also jobs for which the talent pool is often global, giving employers reason to look far afield. It looks like they may increasingly be jobs where remote work is the default.
Computer systems design firms and software publishers are among the biggest employers of computer and mathematical workers, but they're found in almost every industry (including bars, which employed an estimated 50 such workers in 2020).
The median hourly wage for all computer and mathematical occupations was $43.92 in 2020. Computer and information research scientists had the highest median wage, at $60.97
While U.S. employment in July was down about 4% from the pre-pandemic level, computer and mathematical jobs were up slightly.
Only 6% of those in computer and mathematical occupations reported being unable to work because of the pandemic in May 2020. It was the lone category in single digits.

Fox is a columnist for Bloomberg Opinion.