Beat Flip-Flop Stigma With Designer Sandals, $530 and Up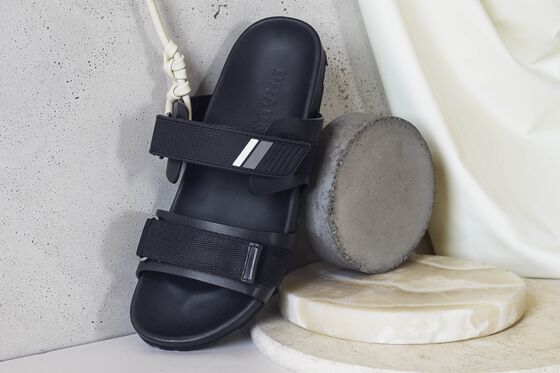 (Bloomberg Businessweek) -- Not all feet are fit for open-toed footwear, but even the flip-flop-averse could be tempted by the technical straps of Prada SpA's rubber-and-webbing sandals. Marrying the sportiness of Tevas with the simplicity of Birkenstocks, these summer slip-ons are high-end at $530 but low-key in true "dad" style. Rugged soles and two adjustable straps that fasten with Velcro add practicality, while the leather trim offers understated luxury and prevents chafing.
• Valentino SpA takes a more stripped-down approach with a $595 pair that has nylon-webbed Velcro straps with prominent "VLTN" branding in white across the ankle.
Velcro here makes the difference. Its workmanlike quality gives a sporty edge to the leather and molded rubber and is a nod to the 1990s heyday of Prada Sport. The sandals will go with most weekend wear, but consider pairing them with slacks at a summer party. For a functional fit, no other sandal hits the mark in such a stylish, modern way. $530; mrporter.com
To contact the editor responsible for this story: Chris Rovzar at crovzar@bloomberg.net, James Gaddy